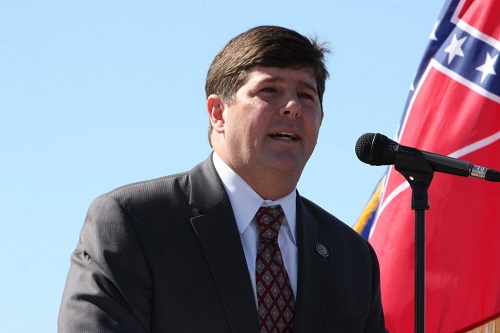 A Mississippi Tea Party Republican congressman, Rep. Steven Palazzo, sent Bibles donated by a constituent to every member of Congress, according to TPM.
Palazzo included a letter sent with each copy of the Bible, stating the book was intended to help his colleagues with their decision-making that read in part:.
"On a daily basis, we contemplate policy decisions that impact America's future. Our staffs provide us with policy memos, statistics, and recommendations that help us make informed decisions. However, I find that the best advice comes through meditating on God's Word."
Memebers of congress, including non-Christians, accepted the gift as a gesture of goodwill.
Barry W. Lynn, executive director of Americans United for Separation of Church and State, criticized  Palazzo's idea of using the Bible as a guide for lawmaking:
"When a politician calls for using the Bible as the basis for public policy, what he or she is really saying is, 'Let's use the Bible as I interpret it as the basis for public policy.'

"When it comes to religion, our nation is pluralistic and diverse. Rather than look to the Bible or any other religious book to craft our nation's public policy, we would do well to examine another source instead, one that was actually created to guide governance. It's called the Constitution."
Rep. Keith Ellison (D-MN), who is Muslim, reportedly sent Palazzo a thank-you letter in response to the Bible, however his offices chose not to disclose what the letter said.
Palazzo was elected in 2010 and represents a very conservative district in Mississippi.
---
(Visited 5 times, 1 visits today)