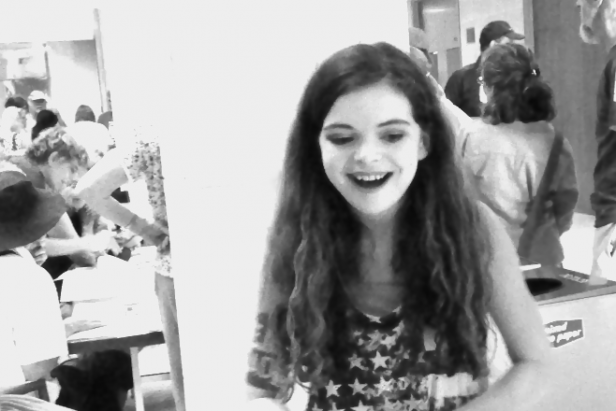 Madison Kimrey, the 13-year old activist from North Carolina has been busy this year. Earlier this month she was asked to speak, along with Reverend Barber, for Moral Monday. Now, this Saturday, September 13, Kimrey will be speaking at the We Are Woman rally in Washington DC. She will be sharing the stage with the likes of NOW's president, Terry O'Neil, Rep. Chris Van Hollen, and Soraya Chemaly. Madison blogs for Liberals Unite, as well as her own site, Functional Human Being. She is quickly becoming well-known for her witty, tenacious, and quite gregarious open letters to various infamous political figures. In June, her letter to Sarah Palin went viral, and she has been sparring with North Carolina's Governor McCrory all year. McCrory called Kimrey a 'prop' after she spoke out for voting rights. I recently had the pleasure of interviewing Madison and Kimberley Johnson on Authentic Women Radio hosted by Shannon Fisher. I can attest, Madison is a force to be reckoned with – We're bound to see good things come form this amazingly intelligent, compassionate, and feisty teenager.
In April, Kimrey took on Phyllis Schlafly, the anti-feminist, who has repeatedly worked against the ratification of the ERA (Equal Rights Amendment) – and she's still chiming in with her anti-women remarks. Schlafly is known for statements like this:
* "Sexual harassment on the job is not a problem for virtuous women."
* "Sex education classes are like in-home sales parties for abortions."
* "By getting married, the woman has consented to sex, and I don't think you can call it rape."
Here are some excerpts from Madison Kimrey's open letter to Schlafly:
What you're doing is attempting to limit my choices, and I don't appreciate that.

What you're doing, Ms. Schlafly, is contributing to something very disturbing I see happening with some of the teenage girls I know. At a time in their lives when they should be free, independent, and exploring and preparing for the possibilities they have in the future, many of them are worried about getting or keeping a boyfriend.

__________

Anyone who wants to be my partner in life is going to have to truly respect me, appreciate me for who I am, and honor the choices I make.
__________

I'm going to continue the work my mother and my grandmothers started, the work you have fought so hard against. I'm going to work to help get the Equal Rights Amendment (ERA) ratified in my lifetime. Once this is done, it's going to take some time to undo a lot of the damage women like you have caused.
The ERA? Hmm. Wasn't that passed in 70's? Thanks to Phyllis Schlafly and her ilk, the surprising answer is, no. The amendment created in 1923 still lacks ratification from several states before the U.S. Constitution can be amended. The We Are Women Rally is mainly to bring awareness and encourage people to take action on this issue. Madison Kimrey made this 82-second video to help promote Saturday's event:
The rally is predicted to draw large crowd with folks bussing in from as far as San Francisco. If you're unable to attend, and still want to support the cause, you can visit these to make a donation:
https://rally.org/rally4equality2014
http://rallyhub.wearewoman.us/donate/
Already, people are asking Madison for her autograph after speaking engagements. Perhaps they imagine her speaking from the Oval Office one day. It could happen. Meanwhile, while she's up on stage Saturday, she can check out the property on the Capitol's front lawn, you know, to get a preliminary feel for the place before she commits to an 8-year term.
More information on this weekend's rally: We Are Women Rally Hub
You can visit Madison's 'NC Youth Rock' on Facebook.
More articles on Liberals Unite