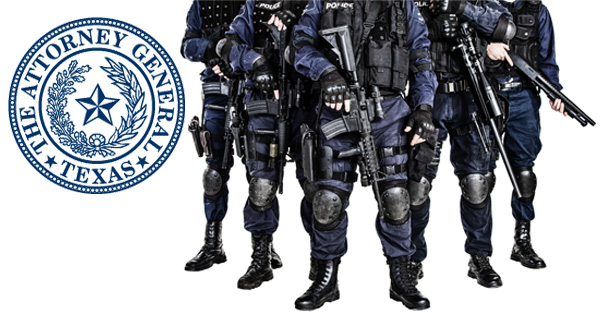 Texas Attorney General and current Republican gubernatorial candidate Greg Abbott ordered a raid on a Houston voter registration drive held by an organization called Houston Votes. The previously unreported raid didn't yield arrests, but did shut down the drive.
Houston Votes was accused of election fraud, and the raid consisted of heavily armed officials storming the office. Fred Lewis, president of Texans Together, the nonprofit parent group of Houston Votes, said ""They could have used a subpoena," he said. "They could have called us and asked for the records. They didn't need guns."  Despite no arrests being made, Houston Votes was done. Funding had dried up, and its records and office equipment was destroyed, per order of Attorney General Abbott.
Houston Votes was registering socio-economically disadvantaged people, as well as minorities.  Critics claim that Abbott did this to further the Republican Party, and this was just simply an attack on poor and minority communities; making it difficult for them to participate in the voting process.
The raid did coincide with Lewis filing a complaint against former House majority leader Tom Delay (R-TX) which led to his indictment on corruption charges.
A spokesperson for the attorney general's office claims that Abbott doesn't recall being briefed on the Houston Votes investigation.
Political payback and voter suppression are both dirty tricks straight out of the Republican playbook. Draconian voter I.D. laws have been considered or enacted all over the country. The poor, minorities, students, and the disabled are (or will be) affected by these laws.
So what's the reason for doing this? Is in-person voter fraud an epidemic?
In Texas, a paltry 51 people have been convicted of voter fraud in the last decade, with only four related to in-person voter fraud, which is the only type of fraud voter I.D. laws would stop. Nationwide, between 2002 and 2005, 40 voters were indicted for voter fraud, out of 197 million cast. 26 of those cases, or .00000013 of total votes cast in that period, resulted in guilty pleas or convictions.
Doesn't seem like an epidemic to me. So what's the real reason Republicans are looking for problems that don't exist?
In the 2012 election 97% of African-Americans voted for President Obama. There. That's it. That's the reason. It's a means to quell voters who don't vote for them. Shutting down election drives that are designed to give people a voice and say in government and if a few of those people manage to slip through the cracks denying them their right to vote is un-American.
On November 4th, 2014, Attorney General Greg Abbott will be on the ballot as the Republican candidate for governor in the State of Texas. If you would prefer someone who doesn't seek to strip Americans of their rights to participate in selecting their officials, you should vote for Wendy Davis, who is seeking the office of governor on the Democratic ticket. Even if you don't live in Texas, you can donate to Wendy's campaign here.
Please take a moment and Like Liberals Unite on Facebook.

(Visited 16 times, 1 visits today)