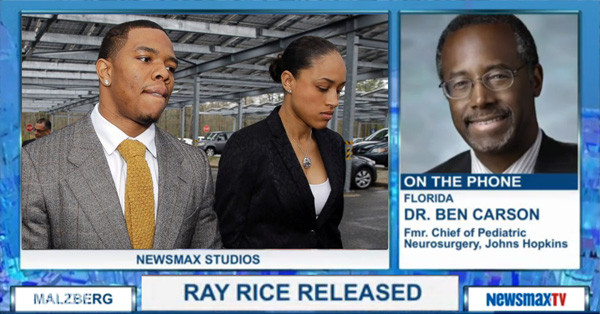 Tea Party favorite Ben Carson defended suspended running back Ray Rice during an interview with the ultra-conservative NewsMax TV.
Alternet put it best when they noted, "As Americans react with horror to the newly released video of Ray Rice assaulting his fiancee in a Las Vegas elevator, there's one prominent voice defending the former running back."
Up until now, Ray Rice hadn't found many media defenders after having his Baltimore Ravens contract terminated and being suspended indefinitely by the NFL following the release of a second surveillance video showing him assaulting his then-fiance Janay Palmer in an elevator. That is until Tuesday when, during an interview with Steve Malzberg on NewsMax TV, Dr. Ben Carson discussed the matter, for all intents and purposes defending Rice and placing equal blame on him and Palmer.
NewsMax reports: "Dr. Ben Carson, the celebrated neurosurgeon and rising conservative star who is mulling a run for president, says football great Ray Rice desperately needs help after the release of a shocking video in which he is seen punching his fiancee, who later became his wife," adding that Carson "also urged that the Baltimore Ravens running back, who was terminated by the team on Monday, not be demonized." [emphasis added]
I'm hopeful that they will get some help for him. Obviously, anyone who would do something like that needs some help. Let's not all jump on the bandwagon of demonizing this guy. He obviously has some real problems. His wife knows that because she subsequently married him. [emphasis added]

Carson concluded "They both need some help," Carson said.
"Rather than just jumping on an impunitive bandwagon [of criticism], let's see if we can get some help for these people."
You can listen to the interview in the clip, below:
(Visited 36 times, 1 visits today)