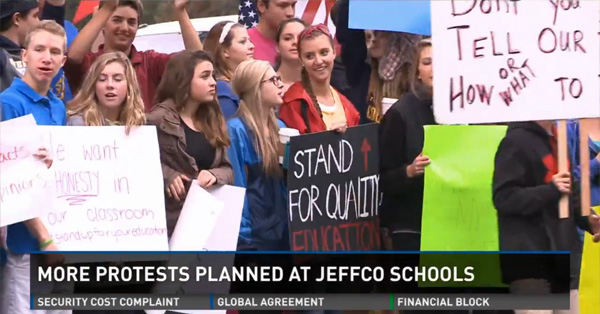 In response to the threat of the removal of any curriculum materials that "encourage or condone civil disorder, social strife," students at area high schools are walking out of class in protest.
These student-organized protests are being organized via social media and are being supported by parents, teachers, and alumni. The superintendent also has told the students he does not support the curriculum board.
Senior Jack Shefrin told CBS Denver,
"Students at my school plan to walk out of classes in protest of the Jeffco school board's new proposed Advanced Placement U.S. History Curriculum Revision Committee which aims to teach students to become more 'patriotic' and less 'rebellious' by portraying the history of our country in a better light."
Eric Temple told Colorado Public Radio,
"When I saw the fact they were considering reviewing the AP U.S. History curriculum and what was taught, it just hit me. That was the best class I took. I wouldn't allow anybody to alter that class."
Students are planning more protests, including an event on Friday, Sept. 26th which urges students to
"go to school dressed as, representing a historical figure or movement that created 'civil disorder, social strife or disregard of the law…' and by doing so made our country and world a better place."
These students, many of whom are too young to vote, are currently learning lessons that go beyond what is taught in any textbook. They are learning to organize and stand up for their rights and they are having their say in what they want taught in their classrooms.
If they can do this, young people all over the nation can follow their example and get involved in the issues that directly impact their lives.
If Jefferson County administrators want to make sure patriotism is being taught to their students, they are seeing evidence right now that it is indeed.
(Visited 7 times, 1 visits today)