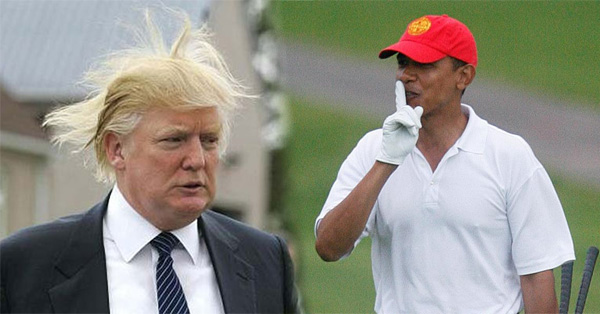 Tea Partiers are tripping all over themselves in a glee-fest over Donald Trump's latest fit of absurdity.
The Tea Party News Network (TPNN) reported on it in an asinine article entitled: Donald Trump Just Made Obama a Tempting Offer That He May Not Be Able to Turn Down
TPNN reported that "We all know, and it has been proven over the past month, that Barack Obama's priorities are golf, golf, golf, in that order, then followed behind by his desire to fundamentally transform the USA into the USSR."
An American journalist being beheaded by Islamic terrorists will only interrupt a golf round of Obama's for a matter of minutes (sorry, truth hurts. It's a documented fact).

Enter Donald Trump, who may have the solution to rid America of the most lawless and destructive presidency in American history by every measurement.

Since the GOP establishment in the House doesn't have the principle to do their constituional [sp?] duty to impeach Obama, and since Democrats in the Senate, led by slightly coherent and treasonous Harry Reid have a lack a love of country and principles to impeach Obama, Trump has crafted a solution that might convince Obama to resign and save the country.
You can see Trump "The Rump" in action on his Twitter account, below:
If Obama resigns from office NOW, thereby doing a great service to the country—I will give him free lifetime golf at any one of my courses!

— Donald J. Trump (@realDonaldTrump) September 10, 2014
(Visited 66 times, 1 visits today)