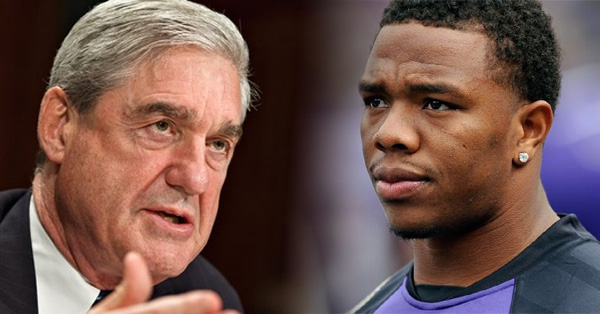 The NFL has hired former FBI director Robert Mueller to serve as an independent investigator into their handling of the Ray Rice case.
As NBC Sports reports that "Wednesday night, after a bombshell report from the Associated Press placed a copy of the infamous elevator video inside the walls of 345 Park Avenue in April, the NFL decided to make the call for outside help."
Hiring an independent investigator was the only viable option.  Entrusting the internal review of the Associated Press report to NFL Security made no sense, since NFL Security becomes the obvious starting point for the search for the culprit.  Also, with a slew of early retirements, resignations, and possibly even terminations likely once the dust settles, NFL Security likely has the most to lose moving forward, since that's the department initially responsible for the multiple failures of diligence, logic, and/or common sense.
According to The Baltimore Sun, Mueller's investigation will be overseen by New York Giants owner John Mara and Pittsurgh Steelers owner Art Rooney.
Mueller was FBI director for a dozen years from 2001 to 2013. He's currently a partner in the law firm of WilmerHale and is based in Washington, D.C.
USA Today reports that Mueller's office issued a brief statement Thursday confirming his appointment to "conduct an independent investigation concerning the Ray Rice matter."
"He has extensive experience handling sensitive investigations," the statement said, referring to his long service at the FBI.
USA Today also noted that "Robert Mueller had barely unpacked his bags at FBI headquarters when suicide hijackers slammed commercial airliners into the World Trade Center and the Pentagon."
The subsequent investigation and the effort to unravel terrorist networks across the globe would consume the next 12 years, before he exited the bureau last year as the longest serving director since J.Edgar Hoover.

It is perhaps fitting that the most high-profile task Mueller has assumed since leaving the FBI arrived on the eve of another 9/11 anniversary when the NFL tapped the decorated Vietnam combat veteran earlier this week to review its handling of a domestic violence case that has shaken the league and its leadership.
Facing a wave of criticism for his handling of the domestic assault case involving now suspended Baltimore Ravens player Ray Rice, NFL Commissioner Roger Goodell pledged Wednesday evening that the former FBI director would have "the full cooperation of NFL personnel and access to all NFL records."
(Visited 11 times, 1 visits today)