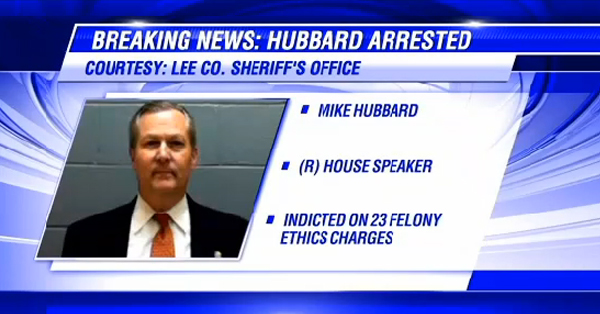 NBC News is reporting that Alabama House Speaker Mike Hubbard has been arrested on 23 felony ethics charges accusing him of using public office for personal gain.
Acting Attorney General Van Davis announced the indictment Monday, accusing the powerful speaker of misusing his office as speaker and while serving in his previous capacity as chairman of the Alabama Republican Party.
Favored to win re-election in the November election, Hubbard claims the charges constitute "a political witch hunt," according to NBC who adds:
If convicted, Hubbard faces from two to 20 years in prison and a fine of up to $300,000 on each count. The charges are latest corruption allegations against Alabama politicians to make headlines. The 52-year-old Republican led the GOP's takeover of the Legislature in 2010, ending 136 years of Democratic control.
Mugshot of AL House Speaker Mike Hubbard from Lee County Sheriff's Office http://t.co/uqmdF76HsV #alpolitics pic.twitter.com/AkjRmzVzpB

— WSFA 12 News (@wsfa12news) October 20, 2014
You can watch a news clip on the arrest from WSFA:
WSFA.com Montgomery Alabama news.
(Visited 66 times, 1 visits today)