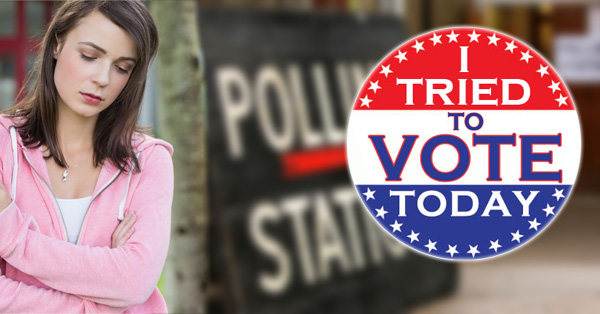 Campus Reform, a conservative activist group, has obtained a video of a North Carolina College Republican Chairwoman suppressing the voter registration efforts of a non-profit, conservative student group.
The video, obtained by Campus Reform, captures the interaction between Turning Point USA representative Bree Binder and the Chairwoman of the High Point University College Republicans, Leigh Thomas last Wednesday.
Binder asks Thomas for permission to enter the private liberal arts campus in North Carolina, to conduct a routine voter registration drive.
We're just registering people to vote. I can show you all the forms and everything.
Thomas responded:
I understand the registration process. I'm just not sure if this is something I would want to have on this High Point University campus, the registration of voting [sic].
When asked to elaborate on her reasons, Thomas replied that she didn't want any voter registration to occur on the campus.
I don't approve of it whatsoever—on a campus like High Point University. I don't want to have any voting registration happening on this campus, with students."
In an interview with Campus Reform, Turning Points USA founder Charlie Kirk expressed his disappointment stating:
Voter registration is an integral part of getting more young people involved, informed, and engaged. Nobody should have a monopoly on registering college students to vote or try to prevent college students from voting."

An important part of outreach is civic engagement—we have previously worked very well with College Republicans and are disappointed that, at High Point University, our registration efforts were thwarted by the leader of College Republicans.
As one might expect, Thomas has declined to comments on the video to any news reporting organization. However, Madison Kimrey, the noted North Carolina voting rights activist and Liberals Unite contributor had the following to say about the incident:
I am shocked that the leader of a political organization on a college campus would be saying she doesn't approve whatsoever of people registering to vote on her campus. During Voter Registration Week of Action, High School Democrats and Young Republicans worked together to get students registered. These students understand that registering and encouraging people to vote is not about party games. It's about making sure that the voices of our citizens are represented and helping our fellow citizens to exercise their rights. As chairwoman of her organization at High Point University, it should be (insert her name here)'s responsibility to set this example on her campus.
You can watch the incident, below:
Please take a moment and Like Madison's page – NC Youth Rock on Facebook.

(Visited 15 times, 1 visits today)