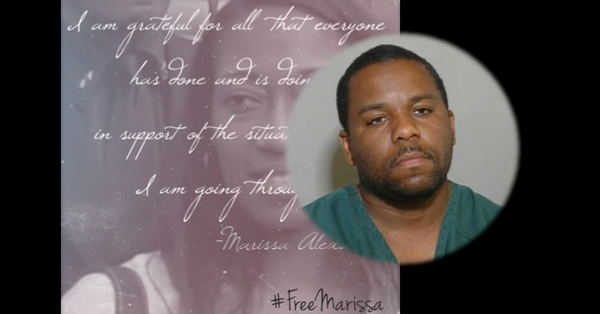 Rico Gray, a self-admitted abusive husband and boyfriend, took the stand Monday in a Jacksonville, Florida courtroom. He was there for Marissa Alexander's upcoming trial, to answer new pre-trial allegations by five women who came forth to accuse him of brutal abuse. Three of the women were ex-spouses. Gray's current estranged wife, Marissa Alexander, was arrested after defending herself from Gray, and now faces a 60-year prison sentence. She has already served jail time, prison time, and had her 20-year sentence overturned – all for firing a warning shot. Because in the land of Rick Scott, whenever one cell door closes, another one opens.
Gray, who was reportedly uncooperative on the stand, said he didn't remember beating his former spouses, but he does recall that he lied about it. In his 2010 deposition, Gray admitted to all kinds of abuse, which he denied on Monday. He said he made up all those sworn statements to help Marissa stay out of jail. Missed on that one, Rico.
Here is one of Gray's many deposition statements:
"The gun was never actually pointed at me. When she raised the gun down and raised it up, you know, the gun was never pointed at me. The fact is, you know . . . she never been violent toward me. I was always the one starting it. If she was violent toward me, it was because she was trying to get me up off her or stop me from doing."
It would seem Gray's deposition is as good as any confession, but it's not. And it's uncertain whether the testimonies of Gray's ex-spouses will be allowed as evidence in Alexander's new trial, scheduled for early December. The decision is up to Judge James Daniel, who has not stated when he'll decide. According to Florida Times Union, the judge repeatedly questioned the relevancy of bringing up Gray's abuse history. Alexander's Defense Attorney Faith Gay said Gray had a "pattern of using law enforcement to hide his own brutalization of his domestic partners."
If you are being abused, or know someone who is in need of help, please contact: National Domestic Violence Hotline: 1.800.799.SAFE
There is a petition called: Free Marissa Alexander – Stop Corey, for those who'd like to show support. For more information on the organizations fighting for Marissa Alexander's release, visit: Free Marisssa Now,, Free Marissa Now on Tumblr, and #FreeMarissa, on Twitter.
More articles on Liberals Unite