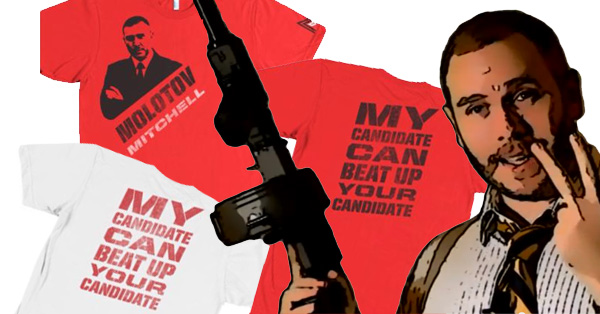 Meet North Carolina's Republican state senate hopeful Jason Molotov Mitchell, living proof that truth is stranger than fiction.
North Carolina's News & Observer reports that "Molotov Mitchell's campaign has been turning heads in the predominantly Democratic Raleigh-Cary district where incumbent Sen. Josh Stein is seeking a fourth term."
Mitchell (birth name: Jason Alexander Mitchell) has offered his donors T-shirts that say "My candidate can beat up your candidate." He's held a Bullets and Bourbon fundraiser with a chance to shoot AK-47 assault rifles. And he's challenged his opponents to do pushups.

His Bullets and Bourbon fundraiser was promoted as
… The most fun you've had in years. Take your turn firing the world famous AK-47, the AR-15, the super-cool KSG pump 12 gauge and other firearms! You can even try your hand at Molotov's own customized, short-barrel AK-47, "The Liberator!" Fun fact: every one of the firearms listed are banned in at least one other state…but not in NC!

After the range goes cold, get to know Molotov over authentic American Bulleit Kentucky Bourbon. Don't miss what could be coolest political event since the American Revolution!
News & Observers continues, explaining that "Mitchell – a conservative filmmaker […] has been weighing in on national politics for years through his video commentaries and other films."
In the videos, he's argued that President Barack Obama wasn't born in the United States, adding that "if I were a leader in the armed forces, I might be thinking coup d'etat right about now." He's called North Carolina's Moral Monday protestors "ugly, mindless, littering, loitering hobos." And his film "Gates of Hell" features a group of "black power assassins" who kill abortion doctors.
Mitchell has been listed as an "Anti-LGBT Extremist" by the Southern Poverty Law Center, who writes of him in part:
In advertising, everyone knows the most important group to reach is the 18-34 demographic. These days, 18- to 34-year-olds even have their own evangelist, a pop culture-savvy Christian hardliner with the word "zealot" tattooed on his forearm and wrath emblazoned in his heart. His name is Jason "Molotov" Mitchell, he's 33 years old, and he's a self-declared "Christian Supremacist" who wants his co-religionists to shove aside "effeminized American Christianity" and start "advancing the Kingdom on earth."

That means abolishing homosexuality, subjugating women, and "crafting the body … into a weapon for God and the Movement, ready and able to serve at any time" — in other words, unquestioning acceptance of draconian Old Testament law, and a willingness to impose it on others.

Mitchell looks like a hipster, but he reads the Bible like a Christian Reconstructionist, or one who seeks to impose biblical law on secular society. In a 2009 video blog for WorldNetDaily (WND), a far-right online publication (see also Joseph Farah profile above), he endorsed a Ugandan bill that would make homosexuality in many cases a capital offense. In 2011, he chided Christians who condemn Islamic Shariah law because it permits polygamy and the stoning of adulterers, noting that both are permitted in Christian Scripture.
According to News & Observer, Mitchell "thinks he can win by persuading unaffiliated voters, particularly college students concerned about privacy threats. He says he wants to remove a National Security Agency-funded Laboratory for Analytic Sciences from the N.C. State campus, which he calls a 'spy facility.'
Mitchell supports fracking and "anything we can do to become energy independent so long as it's environmentally safe and it doesn't harm anyone in North Carolina."
He has attacked his opponent, Harvard Law honors graduate and incumbent Senator Josh Stein, for promoting a bill that would have established what he calls a "transgender kindergarten curriculum."
Calling that characterization an "unbelievable stretch," Stein explains that
It was a bill that requires all school systems to have an anti-bullying policy to protect all children including kids who are gay or lesbian or transgender. If he thinks that's a bad thing, then we see the world in a fundamentally different way.
As Liberals Unite contributor Madison Kimrey writes: "Mitchell recently made a new video in which he challenges Josh Stein to "man up" and do 22 push-ups and write a $22 check to the Veteran's Leadership Council. In a stunning example of class and outreach to women voters, he added that Senator Stein, 'could do yoga/girl push-ups.'"Mitchell claims that Stein, "hasn't gotten jack done for the people here," so Kimrey presented a list of  22 of Senator Stein's numerous accomplishments while in office.
A regular contributor to the ultra-conservative website, WorldNetDaily, below is Mitchell's latest video where he blasts the media for its racist propaganda with its reporting about Ebola.
Gates of Hell ( Official Movie Trailer )
(Visited 175 times, 1 visits today)