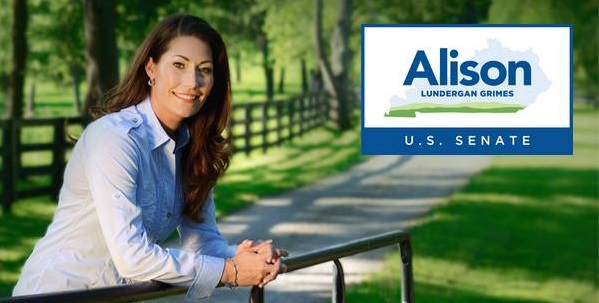 I see a lot of liberals underestimating Democratic Senate candidate Alison Lundergan Grimes (KY) and it is really starting to piss me off.
Whether it is about the Democratic Party pulling funding, Chuck Todd saying she disqualified herself by refusing disclose who she voted for in 2012, or the everyday people commenting about her on Facebook or in articles. I see a lot of people who love to chime in from the cushy back seat and say that she isn't a real progressive and are too quick to dismiss her.
Perhaps those who complain that Grimes isn't liberal enough because she refuses to say whether or not she voted for Obama, or complain that she will support the coal industry, should run for Senate in the extremely RED state of Kentucky and see how far they get with very progressive messaging. See how well Kentucky voters react when you tell them you will invest in solar and wind energies and finally do away with harmful coal. See how Kentucky voters – as a whole – react when you say you voted for Obama.
People – Grimes is a SHREWD strategist. She is not giving McConnell ANY sound bites. If she voted for President Obama, she isn't embarrassed to say so. She is not saying so ON PURPOSE. Mitch McConnell cannot run an attack ad with her saying she voted for Obama. Grimes understands that many who live in coal country earn their living from the coal industry. If she were to come out at say that she will get rid of the mining industry, how many independent, on-the-fencers do you think she would get? Seriously!?!
This powerhouse woman is playing political chess and her audience is tricky. She has to be very careful and calculated and not only is she succeeding, she has managed to keep the race tight for MONTHS.
A Democratic woman has kept up with Mitch McConnell FOR MONTHS in KENTUCKY!!!
We do not know how she will perform if she is elected. We need to reserve judgment and stop back-seat driving her very complicated campaign. She needs our support. We ALL know how difficult it can be for women who seek political office.
Whether or not Grimes wins will depend on the voters. Current polling  has her within the margin of error or with a slight lead. The 2014 midterms will more than likely see more voters (yes, this is MY guess). People are pissed. Liberals are pissed and uncomfortable and that is usually what gets people to the polls.
We only have a few weeks before Election Day – November 4 – so please, STOP with the negative BS and support her. She rocks we need to have her back!
(Visited 17 times, 1 visits today)