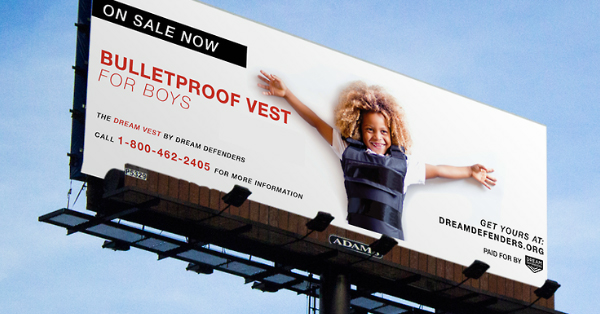 A get-out-the-vote ad by a Florida-based group called Dream Defenders is part of its new "Vest or Vote" campaign, which is rallying voters around police violence against black youth.
Shot in black and white, the minute-and-a-half ad  shows a young black mother in the kitchen distracting her son from a video game to ask him to wear a bulletproof vest so she knows he is safe, pleading:
"I need to know when I'm at work that you're going to be safe. Do it for me."
Noting that "Every 28 hours an African-American is killed by a police officer, security guard or vigilante. No parent in America should have to put their child in a bulletproof vest. On Nov. 4, you have a choice; Vest or Vote," the ad is drawing attention in some Democratic groups according to BuzzFeed. They go on to report that "the creative was done in partnership with BRPR Group based in Miami," and is "part of the Dream Defenders' 'Vest or Vote' campaign, which organizers say is meant to relay dramatic irony around the urgency of voting in this year's midterm elections."
According to their website, Dream Defenders works to "develop the next generation of radical leaders to realize and exercise our independent collective power." Their Tumbler page elaborates posting: "The Dream Defenders is an organization directed by Black & Brown youth, who confront systemic inequality by building our collective power. Be the Power!" (You can also find Dream Defenders on Facebook by clicking here.)
BuzzFeed reports that a spokesman for the campaign stated that they also have a billboard in Tallahassee, as well as a digital ad on the Dream Defenders' website which parodies an online sale for bulletproof vests.
"It's what we call exaggerated reality," said Steve Pargett, communications director for Dream Defenders. "But here in Florida, it really is the way that mothers are thinking. Mothers are scared for their children. And young people don't feel as safe as they did before Trayvon Martin was killed. It's a reality for people living here."
You can watch the ad, below, which is prefaced on the Dream Defenders website with the following:
No one wants to live in a world where bulletproof vests are the norm. Vote on November 4th (and earlier, in Florida and most states), and let's together take a stand on laws, like Stand Your Ground, that create fear and insecurity in our communities. Show your support by sharing the video using the hashtag #VestOrVote.
(Visited 32 times, 1 visits today)