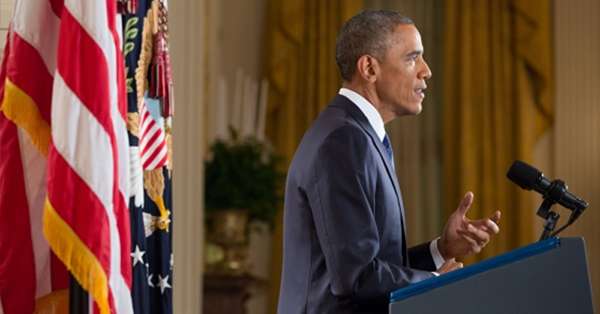 Conservative heads are exploding, Fox News is reeling after President Obama's immigration speech Thursday evening. Ted Cruz, Michele Bachmann, Megyn Kelly and the rest of the peanut gallery are filling the airwaves and internet with cries whimpers of "illegal" "unconstitutional" "impeach" "imprison" and blah blah blah.
Here's the thing, though – as usual, they are completely full of shit as reality and historic precedent prove them to be 100% wrong.
Let me tell you why.
1. At its core, what we are talking about is "prosecutorial discretion" which has the full backing of the over 100 law professors AND has been upheld by the Supreme Court. 
Basically, what the President is proposing is an extension of his earlier "policy directive" known as the Deferred Action for Childhood Arrivals Initiative that directed the Department of Homeland Security to "exercise prosecutorial discretion as appropriate to ensure that enforcement resources are not expended on low priority cases, such as individuals who came to the United States as children."
What President Obama proposed Thursday night is temporary relief from deportation to specific categories of undocumented immigrants if they have "been in America for more than five years; … have children who are American citizens or legal residents; if [they] register, pass a criminal background check, and [are] willing to pay [their] fair share of taxes.
As MSNBC reported earlier this week, "the legality of prosecutorial discretion is clear, according to over 100 law professors who specialize in immigration, and who signed a joint memo in September on the issues involved," which read in part:
"The application of prosecutorial discretion to individuals or groups is grounded in the Constitution, and has been part of the immigration system for many years. Furthermore, court decisions, the immigration statute, regulations and policy guidance have recognized prosecutorial discretion dating back to at least the 1970s. Notably, in 2012, the U.S. Supreme Court reiterated: 'A principal feature of the removal system is the broad discretion exercised by immigration officials … Federal officials, as an initial matter, must decide whether it makes sense to pursue removal at all…'"
2. The President's executive orders have precedent.
Henry Fernandez reports for MSNBC that "every president since Dwight D. Eisenhower has taken executive action on immigration."
The American Immigration Council has identified a total of 39 times since 1956 that presidents have used their authority to grant relief to immigrants. Sometimes the impacted group represented a small number of people, like when President Reagan granted Extended Voluntary Departure to 7,000 Poles in response to the Polish government declaring martial law, or when President George W. Bush granted deferred enforcement departure to 3,600 Liberians in 2007. Other executive actions have had a larger impact, like the series of actions that granted amnesty to 621,403 Cubans between the presidencies of Eisenhower and Nixon, or those that granted relief to 360,000 Vietnamese, Laotians and Cambodians under Presidents Ford and Carter.

In many of these cases, the presidents involved acted because Congress failed to do so. Legislative inaction is what prompted President George H.W. Bush in 1990 when he deferred deportation of up to 1.5 million children and spouses of several million people previously granted legal status under President Reagan's Immigration Reform and Control Act. Bush took executive action when the House delayed a bill passed by the Senate which addressed these families.
So, we now have our 40 reasons conservatives should shut the f— up about Obama's immigration actions, taking the 39 times presidents have used their authority to grant relief to immigrants and adding in the 100+ professors and Supreme Court who support "prosecutorial discretion."
Bottom line: President Obama has history, legal precedent, and Presidents Eisenhower, Kennedy, Johnson, Nixon, Ford, Carter, Reagan, Bush Sr., Clinton and Bush Jr. on his side.
(Visited 14 times, 1 visits today)