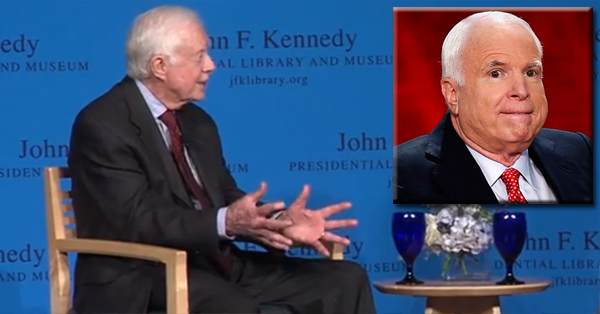 Former president Jimmy Carter had an opportunity to respond to recent remarks by Sen. John McCain (R-AZ) during an interview at the John F. Kennedy Library in Boston to discuss his new book, A Call to Action: Women, Religion, Violence, and Power.
Speaking to a radio station in Phoenix, McCain used Carter's foreign policy legacy to criticize President Barack Obama, stating: "I have never seen anything like this in my life. I thought Jimmy Carter was bad, but he pales in comparison to this president in my opinion."
MSNBC host Ronan Farrow read the statement to Carter, asking the 39th President:
The serious question is, what does is it feel like, and what is your response to, these moments of being used as an insult? Your legacy being used as an insult.
To the delight of the audience, Carter responded: "That's a compliment to be coming from a warmonger," adding:
I have great admiration for him – Senator McCain was a hero in the navy as I was and suffered terribly as a prisoner of war – but in almost every debate in the Senate and public TV he always makes the choice of the most violent response to any challenge to our nation.

He wants to go to war in this country and that country, and when President Obama refrains from taking the most extreme military action that's when John McCain compares him to me.

I was lucky enough, when I was president, to keep our country at peace and provide peace for others. I was lucky enough to go through my four years — we never dropped a bomb, never fired a missile, we never shot a bullet.
You can watch the exchange, below:
h/t The Anti-Media
(Visited 86 times, 1 visits today)