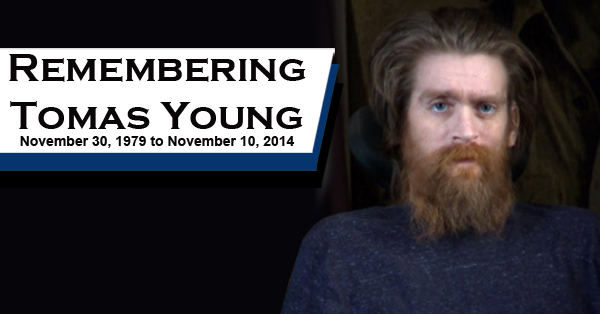 In March of 2013 paralyzed Iraq veteran Tomas Young reminded the world in a powerful letter about who was to blame for Iraq – Bush and Cheney – calling them war criminals and murders of both Iraqis and Americans.
In a powerful clip from Democracy Now, he read from that letter that told his story and gave his message to George Bush and Dick Cheney.
Sadly, Young passed away on November 10, 2014, but no cause of death has yet been reported.
Karin Kamp of Bill Moyers & Company reminded us all yesterday that "Young was featured in Body of War, a documentary by Phil Donahue and Ellen Spiro that was featured on Bill Moyers Journal in March 2008. The film focused on Tomas, who was shot and paralyzed just days after beginning his tour of duty in Iraq."
Kamp goes on to report that
Donahue, who visited Young last month at his home in Seattle, said the world had lost a "bright light" and a "talented young man" who was determined to speak out against "this massive blunder that was the Iraq war."

"He was a political animal and he had a political statement that he wanted to make," Donahue told BillMoyers.com. "Tomas wanted people to know that this is the drama being played out in houses across the country occupied by thousands of young men and women who fought in the war," he said, referring to injuries that left Young in need of round-the-clock care.
You can watch a news clip, below, on his passing and can see the video or him reading his letter by going here.
(Visited 895 times, 1 visits today)