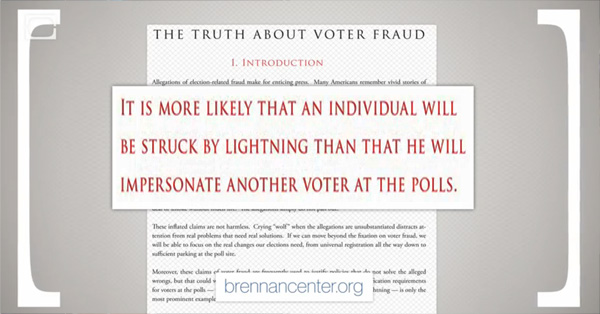 Are Voter ID Laws Really a Bad Idea?
A photo ID is required for a lot of things such as flying, driving, and buying alcohol. So why is it a big deal to require a photo ID for voting? As it turns out, voter ID laws could restrict a lot more voters than you think.
>Watch this informative clip from The Brennan Center.
Learn More:
NYU SCHOOL OF LAW The BRENNAN CENTER
http://www.brennancenter.org/analysis…
Policy Brief on Voter Identification
Why New Photo ID Laws Mean Some Won't Vote
http://www.npr.org/2012/01/28/1460062…
The argument over whether voters should have to present photo identification at the polls usually splits along party lines.
VOTER IDENTIFICATION REQUIREMENTS | VOTER ID LAWS
http://www.ncsl.org/research/election…
Everything You've Ever Wanted to Know About Voter ID Laws
http://www.propublica.org/article/eve…
"Voter IDs laws have become a political flashpoint in what's gearing up to be another close election year."
(Visited 101 times, 1 visits today)