One of the most powerful things we can do as Progressives is to boycott right wing companies who help fund people like Rush Limbaugh.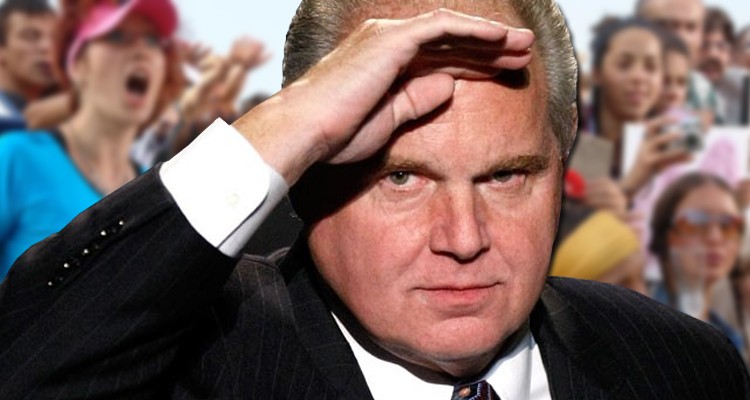 Many of us want to do something that makes a difference, but we're not sure how, and funds are tight. One thing that is free and easy to do, is avoid buying from companies that support Rush Limbaugh. The vile Conservative radio talk show host who calls women 'femi-nazis' and 'receptacles for male semen,' is mostly known for spreading hate and outright lies, while promoting/inciting racism, LGBT hatred, bigotry, and misogyny. And for 25 years he has gotten away with it. But for the last two years, the general public has become more and more proactive against his type of commentary. Concerned consumers have contacted and petitioned Rush Limbaugh sponsors, and asked the companies to pull their advertising from his show. For those companies who opt to ignore consumers, they are not only boycotted by hundreds of thousands, they are permanently associating their company's name/brand, in the minds of many, with a hate monger. Seems a pretty foolish business move, when you think about it.
Here is a list of 10 very loyal Rush Limbaugh sponsors. To support the boycott, one only needs to avoid buying from these companies, and spread the sponsor information. Even if you haven't heard of these sponsors and/or don't do business with them, by circulating their names to friends, family, and on social media, you will have an impact. Together, the public is sending a message to businesses and the media, that we do not support companies that support hate speech. Rush Limbaugh has lost thousands of sponsors due to this national boycott, which means he has lost millions in ad revenue.
Lifelock
Endorsed by former NY Mayor Giuliani, the so-called 'identity theft protection' company, uses scare tactics to sell their services and they continue to get horrible reviews, some of which are posted on the Consumer Affairs website. LifeLock blitzes free digital TV with ads that play heavily on the fears and distrust of vulnerable consumers.
Twitter URL:    @LifeLock
Facebook URL:    http://www.facebook.com/LifeLock
Phone:    1-800-440-4833
iHeart Radio
IHeart radio, has been on the sidelines supporting the Rush Limbaugh show as a 'sister' company owned by Clear Channel. This past year the CEO of Clear Channel, Bob Pittman, decided to rebrand the failing Clear Channel name to iHeart Media, (lipstick on a pig, or something like that) so we can now attribute the airing of the Rush Limbaugh Show on approximately 600 stations nationwide – to iHeart. (A few alternatives to the iHeart music app include Spotify, Pandora, and iTunes/iTunes Radio.)
Twitter URL:    @iheartradio
Facebook URL:    https://www.facebook.com/iheartradio
Street Address:    32 Avenue of the Americas
City:    New York State:    NY
Zip Code:    10013 Web
Contact Form:    http://help.iheartradio.com/customer/portal/emails/new
Email1:    [email protected]
1800flowers
1800Flowers has been buying ads from Rush Limbaugh, pretty much nonstop, for years. Consumer Affairs just posted their TOP 800 Complaints And Reviews About 1800Flowers on December 23, 2014. One moral to this story: Whenever possible, buy from locally owned and independent companies.
Twitter URL:    @1800flowers @jim1800flowers
Facebook URL:    http://www.facebook.com/1800flowers
Phone:    1-800-716-4851
Web Contact Form:    http://ww11.1800flowers.com/serviceform.do
Email1:    [email protected]
Email2:    [email protected]
Stamps.com
Also listed on the Consumer Affairs site, Stamps.com has numerous complaints. Here's the first one I read: "The same as everyone else, I'm finding it nearly impossible to keep charges away from my credit card account even past cancellation. Once they have your credit card info, it is off to the races to see how many times they can charge your account. When confronted, they act stupid as to why you're being charged and refuse to erase your personal info from their system. I would advise against using Stamps.com as there are other services that offer the same shipping solutions for FREE."
Gotta love the internet's freedom of speech.
Twitter URL:    @stampscom
Facebook URL:    https://www.facebook.com/stamps.com
Phone:    310-482-5942
Web Contact Form:    http://www.stamps.com/contact-us/press/
Email1:    [email protected]
Email2:    [email protected]
Visiting Angels
The highly criticized 'Elderly Care' company, Visiting Angels, joined the Rush Limbaugh Show last year and has opted to stay, blatantly ignoring consumer pleas to leave. Looking at recent reviews, it seems Visiting Angels is getting desperate and scraping the bottom for help. This could be why they chose to advertise on Limbaugh's show.
Twitter URL:    @1visitingangels
Facebook URL:    https://www.facebook.com/VisitingAngelsCorporate
Street Address:    28 W Eagle RD Suite 201
City:    Havertown
State:    PA
Zip Code:    19083
Phone:    800-365-4189
Web Contact Form:    http://www.visitingangels.com/website-inquiry
Email1:    [email protected]
ProFlowers
Another consumer complaint and review site lists 821 complaints/reviews about ProFlowrers. I had my own personal bad experience with the company. At 16, my daughter planned to surprise me on Mother's Day with a bouquet of flowers via ProFlowers online (a big expense for any teen and this was her first time). No delivery was made on Mother's Day. She kept calling me to see if 'my surprise' had arrived, and by the end of the day she was in tears. The most she could get from ProFlowers  was a stock apology and promise to send the same flowers the next day. After speaking with four reps, I finally got my daughter a full refund. I will never use them again, based on how they handled this order. Mistakes are made. How they are handled tells a lot about a company.
Twitter URL: @proflowers
Facebook URL:    https://www.facebook.com/ProFlowers
Phone:    800.580.2913
Email1:    [email protected]
Hillsdale College
Hillsdale College loves Rush Limbaugh and Rush Limbaugh loves Hillsdale – so much so, that he personal endorses the Right-Wing college. In 2013, the college made headlines when the president referred to black students as 'the dark ones.' I imagine it was then the stars aligned and a match between Hillsdale and Limbaugh was made, in hell.
Twitter URL:    @Hillsdale
Facebook URL:    https://www.facebook.com/pages/Hillsdale-Colleges-Constitution…
City:    Hillsdale
State:    MI
Zip Code:    49242
Phone:    517-437-7341, 517-439-8504
Fax:    517-437-3923
Web Contact Form:   http://www.hillsdale.edu/admissions/askus/askus.asp
Email1:    [email protected]
Lear Capital
In reading complaints about gold investment company, Lear Capitol, one consumer says, "From beginning to the end, it was the biggest nightmare of my life." Okay, then. Between that comment and others that followed, this company is easy to boycott.
Twitter URL:    @learcapital
Facebook URL:    http://www.facebook.com/LearCapital
Street Address:    1990 S. Bundy Dr.; Ste 600
City:    Los Angeles
State:    CA
Zip Code:    90025
Phone:    1-800-957-GOLD
Fax:    310-571-0194
PajamaGram
PajamaGram is a seasonal advertiser of the Rush Limbaugh Show. They get in during Christmas and Valentine's Day, and quickly jump out after, figuring no one will notice. Well, consumers and activists do notice, and it shows a strong lack of integrity and disrespect.
Twitter URL:    @PajamaGram
Facebook URL:    https://www.facebook.com/PajamaGrams
Phone:    800-448-3757
Web Contact Form:    http://www.pajamagram.com/…
Email1:    [email protected]
IDrive
The biggest complaints found for IDrive is the 'painfully slow' back-up process. That said, StopRush has reported IDrive ads on the Limbaugh show over 500 times in the last two years, and the company continues to advertise almost daily. IDrive is one of Rush Limbaugh's most loyal sponsors and for that reason alone, protestors will continue to boycott this company.
Twitter URL:    @IDriveBackup
Street Address:    26115 Mureau Road, Suite A
City:    Calabasas
State:    California
Zip Code:    91302
Phone:    (818) 878-9202 ; (866) 748-0555
Email1:    [email protected]
Honorable Mention:
Highly criticized Angie's List pulled their ads last year, but left a bad taste in the mouths of many consumers. The reportedly extreme Right Wing company was one of the first Rush Limbaugh sponsors to rush back to his show, and stay there, after Limbaugh's 3-day Sandra Fluke verbal attack (video), calling her a 'slut' and 'prostitute' while she was advocating for medicinal birth control in front of Congress. Limbaugh attacked Fluke when she was an unknown. That's how he rolls. Like a bully. A sad pathetic bully. Again, I need to stress, Angie's List finally pulled their ads (moving some to Sean Hannity), but they are worthy of a mention. The weakening company has also had a large share of customer complaints, as well as some bad press by Forbes.com.
For those who'd like to go a step further in the protest, you can sign this petition. Over 128,000 concerned consumers have signed their names. What makes this petition unique and effective, is that the signatures are is sent to the 40 sponsors listed within – with every new 500 signatures. Many protestors send the petition when they contact sponsors. When sponsors see that 128k people are associating their company's name with Rush Limbaugh – or when they hear from actual consumers, it shakes many of them up, and some have pulled adverting because of the petition as well as other organizations protesting Limbaugh. Once a company discontinues their ads on Limbaugh's show, they are eventually removed from the petition (and the StopRush Database).
Thousands of companies have left Rush Limbaugh's show due to the public's outrage and the hard work of StopRush, FlushRush, Boycott Rush, numerous Women's Rights organizations, Liberal groups/sites, and petitions. Rush Limbaugh is losing on the left and right, and he is also losing radio stations. Much of his downfall has to do with the national protest. The rest most likely has to do with Limbaugh's desperate and pathetic shock tactics, which no longer work, and his aging self-proclaimed 'dittohead' fans who are reported to be white, male, and over 65. (No surprise there.) Protestors want his disgusting, demeaning, and derogatory commentary off public radio.
Here are more easy ways to support the protest in the final stretch.
(Rush Limbaugh contact information courtesy of StopRush.Net and subject to change daily.)
Thank You Kossack, Richard Myers. Rest In Peace. We Will Finish This.
Article cross-posted on Daily Kos. Special thanks to the volunteers at StopRush for their continuous hard work documenting and maintaining the Rush Limbaugh sponsor list.