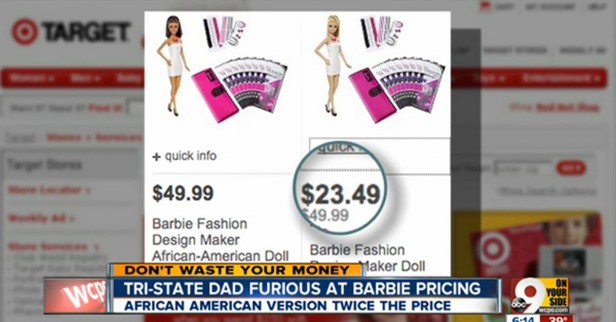 Target and Walmart come under fire after people complain that black Barbies are priced higher than one ones at their stores and online.
UPI reports that Target and Walmart both confirm they have adjusted the prices of black Barbies after the story broke last weekend.
Warren Johnson of Cincinnati said he was looking for a Barbie doll for his daughter on Target's website when he discovered the Barbie Fashion Design Maker Doll was priced at $23.49 while the Barbie Fashion Design Maker African-American Doll was $49.99.
Local station WCPO confirmed over the weekend that the prices were different and spoke with Johnson who told them that "When my daughter asked the question, 'Why is the black doll more expensive than the white doll?' I really didn't have an answer for her," Johnson said. adding "It kind of rubbed me the wrong way in light of all the things going on in our society right now."
Whats wrong with this picture? @WCPO #smhtarget pic.twitter.com/s7D7x9332Y

— Coach J (@jayven07) December 7, 2014
Target issued the following statement to WCPO:
Both dolls should have reflected the same pricing, however, due to a systems issue this change did not occur. We appreciate you bringing this discrepancy to our attention and have since adjusted the pricing and product detail listing
According to UPI, "Walmart gave a similar explanation Tuesday for why the African-American version of the Barbie I Can Be a Skater doll was listed on the chain's website at $11.87 while the Caucasian version was $9.98."
"They should always be the same price, across all ethnicities," a Walmart spokesman told CNBC. "This is just a pricing error. We corrected it immediately."
You can watch a news clip from WCPO, below:
(Visited 52 times, 1 visits today)