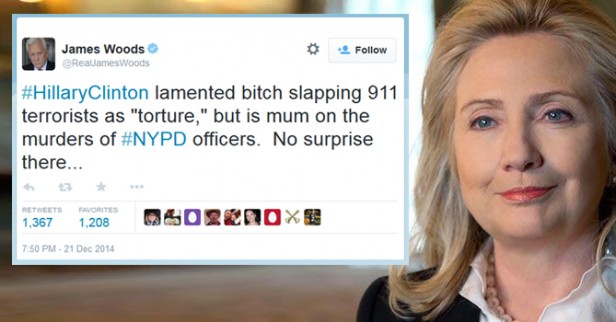 All hell broke loose on James Wood's confirmed Twitter account as he launched a series of attack on Al Sharpton, Hillary Clinton, Rand Paul and NYC Mayor Bill de Blasio over the shooting death of two NYPD police officers on Saturday.
Woods, an Academy Award nominee and 3-time Emmy Award winner, is a registered Democrat according to some sources and a registered Republican according to others. What we know for sure is that he was a vocal supporter of both George W. Bush and his Iraq War. Woods is also a supporter of former Mayor of NYC Rudy Giuliani and endorsed John McCain and Mitt Romney for president in 2008 and 2012, respectively.
Woods began is hate-fest when he launched an all-out attack beginning with  Sharpton beginning Sunday and continuing Monday morning.
Wood's posts appear to begin with one calling Sharpton a "race pimp" shortly before noon on Sunday with the latest post appearing at 7:03am Monday.
"I'm putting wings on pigs today" – Cop assassin Ismaaiyl Brinsley. Is Race Pimp Sharpton eating caviar this morning? pic.twitter.com/Szg7QfP7Cx

— James Woods (@RealJamesWoods) December 21, 2014
Wood's next post refers to a false report by Fox & Friends from earlier in December. According to The Grio,
During the broadcast, they showed a clip from a protest last night in Manhattan where some people were reportedly heard chanting "What do we want? Dead cops! When do we want it? Now!" The video then flipped to Sharpton leading a peaceful rally where he says, "We're not saying all police are bad. We're not even saying most are bad. We're not anti-police, but we're anti-brutality. And the federal government must have a threshold to protect that."

The intention of the shoddy editing was to make Sharpton look like a hyprocite, although anyone paying attention could see the clips were from drastically different times of day. That didn't stop the hosts from using this footage as evidence that the protestors had ill intentions.
— James Woods (@RealJamesWoods) December 22, 2014
Woods also took the time to attack Hillary Clinton in this tweet:
#HillaryClinton lamented bitch slapping 911 terrorists as "torture," but is mum on the murders of #NYPD officers. No surprise there…

— James Woods (@RealJamesWoods) December 21, 2014
And in another tweet containing a photo of Sharpton and Clinton:
Never Forget. pic.twitter.com/4E4WqABXky

— James Flacco (@bitingtea) December 22, 2014


Woods tweeted an attack on Rand Paul and Sharpton, referring to the two of them as being "creepy."
Paul/Sharpton pic just creepy on all levels, and I liked the fatter, greasier #PigSharpton better… pic.twitter.com/0Up02ecplI

— James Woods (@RealJamesWoods) December 22, 2014


Woods also posted some tweets attacking NYC Mayor Bill de Blasio, such as this one suggesting he has "blood on his hands."

The blood of 2 executed police officers is on the hands of Mayor de Blasio. May God bless their families and may they rest in peace.

— SBA (@SBANYPD) December 21, 2014


Woods also created a new hashtag as part of his war on de Blasio, #TurnYourBack.

New Hashtag: #TurnYourBack EVERY time DeBlasio speaks, EVERY Police Officer in sight should turn his/her back. Especially at Cops' funerals

— James Woods (@RealJamesWoods) December 21, 2014


He even decided to throw Sharpton in the bus on that attack as well with some tweets, such as the one below:

#TurnYourBack on @deBlasioNYC pic.twitter.com/DqzJRol7zj

— James Woods (@RealJamesWoods) December 21, 2014


Woods also jumped on-board the Rudy Giuliani bandwagon after he blamed Obama for the shootings:

Rudy Giuliani: 2 NYC Cops Were Killed Because Obama Told Everyone To 'Hate The Police' | ThinkProgress http://t.co/AGNicxEgti

— James Woods (@RealJamesWoods) December 22, 2014


Of course, his attack wouldn't be complete without a photo of Obama and Sharpton together:

MISSION ACCOMPLISHED: pic.twitter.com/JjvgQAxjkU

— James Woods (@RealJamesWoods) December 21, 2014


And he decided to follow that one up with a tweet accusing Sharpton of being "Obama's Go-To Guy:"
Blog: Race-hustler, anti-Semite Al Sharpton is Obama's Go-To Guy http://t.co/Vg9d4fx4GD

— James Woods (@RealJamesWoods) December 22, 2014


Woods decided to complete the scene with a pro-gun post:
Never felt more certain that the Second Amendment is a necessity to protect the Bill of Rights from tyranny.

— James Woods (@RealJamesWoods) December 21, 2014


And ever the courteous tweeter, Wood's took the time to respond to fan mail on his wall:
@BuzzFeedAndrew @RealJamesWoods is a crackpot. But he did call my buddy @yeselson "Trotsky's Demented Great Grandson," which was funny.

— Harold Pollack (@haroldpollack) December 21, 2014
Couldn't resist RTing the Stephen Hawking Look-Alike winner who calls me a "crackpot." From same viper's nest as Bill Ayers. Enough said?

— James Woods (@RealJamesWoods) December 21, 2014
(Visited 429 times, 1 visits today)