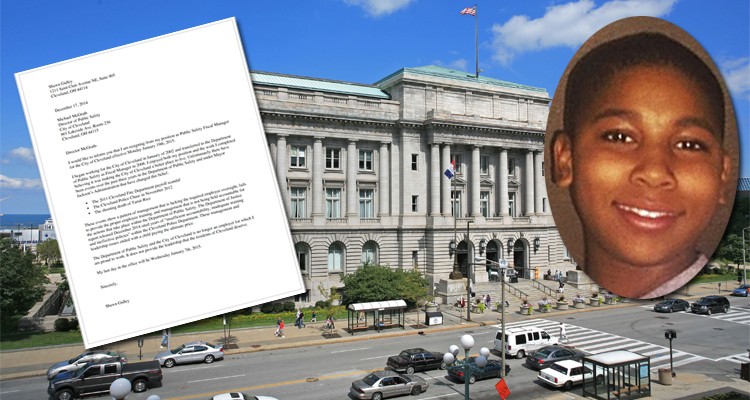 Proof positive that at least one Cleveland official believed the city was responsible for the death of 12-year-old Tamir Rice at the hands of police.
This article was first published on January 9, 2015 but in light of recent events we felt it pertinent to publish it again as it indicates that at least one city official believed the city was culpable for events leading to the tragic shooting death of 12-year-old Tamir Rice by Cleveland police.
RECENT EVENTS IN THE TAMIR RICE CASE
On Monday, December 28, 2015 prosecutors announced that neither police officer involved in the fatal shooting of 12-year-old Tamir Rice will face criminal charges.
A grand jury decided not to indict indict Officers Timothy Loehmann and Frank Garmback, according to Cleveland prosecutor Tim McGinty.
Loehmann, an officer-in-training, shot 12-year-old Tamir outside a Cleveland recreation center on November 22, 2014, and veteran officer Garmback was training him.
"It is likely that Tamir, whose size made him look much older and who had been warned his pellet gun might get him into trouble that day, either intended to hand it over to the officers or show them it wasn't a real gun," McGinty said in a statement, adding "But there was no way for the officers to know that, because they saw the events rapidly unfolding in front of them from a very different perspective."
"Given this perfect storm of human error, mistakes and communications by all involved that day, the evidence did not indicate criminal conduct by police," McGinty said concluded.
In a statement released later on Monday, Tamir Rice's family accused the prosecutor's office of mishandling the case.
Prosecutor McGinty deliberately sabotaged the case, never advocating for my son, and acting instead like the police officers' defense attorney. In a time in which a non-indictment for two police officers who have killed an unarmed black child is business as usual, we mourn for Tamir, and for all of the black people who have been killed by the police without justice. In our view, this process demonstrates that race is still an extremely troubling and serious problem in our country and the criminal-justice system.
AT LEAST ONE CITY OFFICIAL KNEW THERE WERE ERRORS INVOLVED IN THE TAMIR RICE SHOOTING INVOLVING LACK OF PROPER OVERSIGHT, TRAINING AND MORE
Shawn Gidley, The Fiscal Manager of Cleveland's Public Safety, has penned a resignation letter stating he is no longer proud to hold his position, due to corruption.
In his letter of resignation, Gidley mentions a 2011 firefighter payroll scandal, a 2012 police car chase that ended in 137 bullets being shot into a car of two unarmed individuals, and more recently, the senseless and cruel 2014 police shooting of 12-year old Tamir Rice.  
After presenting those three concerns, Gidley went on to explain that:
These events show a pattern of management that is lacking the required employee oversight, fails to provide the proper employee training, and management that is not being held accountable for the actions that take place within the Department of Public Safety. The Department of Justice report released December 2014 sited [sic] years of "insufficient accountability, inadequate training and ineffective policies" within the Cleveland Police Department. These management and leadership issues ended with a child paying the ultimate price.
Gidley concluded his letter writing: "The Department of Public Safety and the City of Cleveland is no longer an employer for which I am proud to work. It does not provide the leadership that the residents of Cleveland deserve. My last day in the office will be Wednesday January 7th, 2015."
Thank you, Mr. Gidley. You letter is powerful, and you have done your city and this country a great service by publicly refusing to turn a blind eye to corruption, while risking your reputation and livelihood. We need people like you in public office, and can only hope your courage will inspire others to follow your lead.
"An Individual has not started living fully until they can rise above the narrow confines of individualistic concerns to the broader concerns of humanity. Every person must decide at some point, whether they will walk in light of creative altruism or in the darkness of destructive selfishness." – Dr. Martin Luther King, Jr.

It seems Shawn Gidley has chosen to 'walk in the light of creative altruism.'
Here is Shawn Gidley's full letter:
(Visited 31 times, 1 visits today)