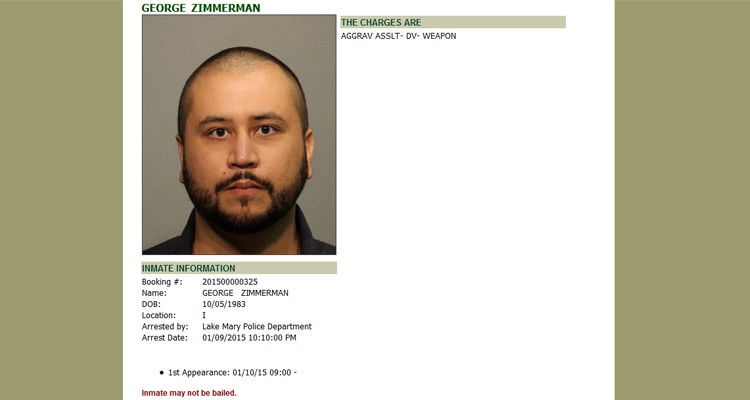 UPDATE: 10JAN14, 10:02 A.M.: Zimmerman was granted a $5,000 bond and was ordered to not have any contact with the alleged victim or travel to Volusia County, where she lives, reported NBC affiliate WESH. He was also ordered surrender any firearms he owns — even though the judge said there was no indication he used one in this case. He is expected to appear in court again Feb. 17.  
Sun-Sentinel reports that the incident involved Zimmerman throwing a wine bottle at the victim at her Lake Mary home. 
---
News outlets are reporting that George Zimmerman has been arrested in Florida on suspicion of aggravated assault and domestic violence.
Zimmerman, 31-years-old, was arrested by Lake Mary police around 10 p.m. and booked into Seminole County's John E. Polk Correctional Facility according to their website. He is currently being held with no bond and his first appearance is at 9:00 a.m. Saturday.
Zimmerman became a public figure in 2012 after fatally shooting Trayvon Martin in his Sanford, Florida neighborhood. Initially, authorities declined not to charge Zimmerman, spurring large-scale nationwide protests. Zimmerman was later acquitted in 2013 of a second-degree murder charge for shooting the unarmed teenager. Zimmerman was acquitted in 2013 of a second-degree murder charge for shooting the unarmed teenager.
Zimmerman continued having trouble with the law. He was stopped for speeding twice, the first time in Forney, Texas, about two weeks after his acquittal. He told the police officer stopping him that he had a gun in the glove box and a concealed weapon permit. Later, in Early September he was ticketed for going 60 mph in a 45 zone and was given a ticket. He did not have a weapon with him at the time.
In September, authorities investigated an alleged domestic violence dispute between Zimmerman and his estranged wife, Shellie Zimmerman, but charges were never filed. Then in November he was taken into custody after an alleged heated fight at his then-girlfriend's Apoka, Florida, home. He was released after posting a $9,000 bail several days later. State Attorney Phil Archer declined to press charges after Zimmerman's girlfriend asked that the matter be dropped.
As CNN reports, in September of this year Lake Mary, Florida, police reported that a man claimed that Zimmerman threatened him during a road rage incident, allegedly telling him, "I will kill you. Do you know who I am?" However, Zimmerman was never arrested for that incident.
(Visited 8 times, 1 visits today)