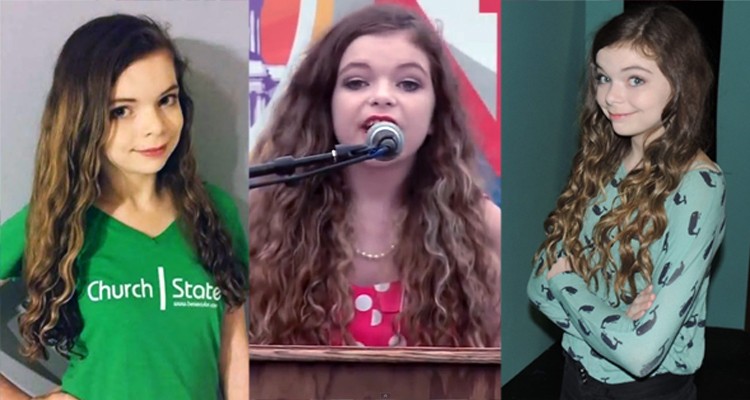 Madison Kimrey, one of the nation's youngest political activists, delivered this speech on Martin Luther King as a part of the 10th annual "Blessed are the Peacemakers" program in Freeland, Washington.
South Whidbey Record reports that "Kimrey, age 13, rose to prominence when she articulated a passionate refute of North Carolina state governor Pat McCrory's rescinding of voter pre-registration for youth" and "became incensed at the governor's dismissal of her and other protestors' requests to discuss the policy change. She contends that Governor McCrory's actions signify that he is dismissing the political validity of young Americans."
Kimrey has since spoken with many national heavyweights, including  the Rev. Al Sharpton, and has been interviewed on programs such as MSNBC and Huffington Post Live. Kimrey's local chapter of the National Association for the Advancement of Colored People gave her  the Youth Social Justice Award. She was also featured as a speaker in the We Are Women Constitution Day Rally on the Capitol Mall in Washington, D.C., and is a Davidson Scholar Young Ambassador and founder of the North Carolina Youth Rocks activist group.
You can watch her speech, below, followed by a transcript.
TRANSCRIPT:

Dr. Martin Luther King Jr. said that "The ultimate tragedy is not the oppression and cruelty by the bad people but the silence over that by the good people," and that, "Our lives begin to end the day we become silent about things that matter." The fulfillment of Dr. King's dream requires the people of this nation, and most importantly the young people of this nation, to wake up.

We have been charged as guardians of a great legacy; a nation that has evolved through the deeds of its citizens who dreamed of freedoms expanded, opportunities extended, and injustices eliminated. Our charge requires vigilance. We must not allow the siren song of complacency to drown out the voices of those who came before us singing, "We shall overcome." We cannot allow apathy to subdue the conviction that, "We shall not be moved."

In our steadfast and faithful watch over the American dream, we are each other's keepers. And when we sense indifference in any of our fellow watchmen, it is our duty to shake them awake and remind them that what they guard is precious and has been granted only through the sacrifices made and the blood shed by those who came before them. For as long as our brothers march through the streets demanding justice, as long as our children lie awake hungry, as long as veterans who fought to preserve our freedoms are homeless, as long as our sisters continue to seek equal protection under the law, as long as our fellow human beings fight for the right to form families with the people they love, as long as any our fellow citizens find that parts of the American dream are elusive or unavailable to them, we shall not sleep.

Through the evolution of this nation, throughout generations and the progression of our society, the American dream has remained constant. Through education, hard work, and mindfulness of one's character, any citizen can be reasonably assured of a place to call home, food to eat, medical care, and a chance at further opportunity. If someone falls on hard times, they will not be forgotten. If someone makes a mistake, they will have a chance to be forgiven. It is this simple and constant dream that binds us together as the American people and that men and women throughout our history have fought to take part in and protect.

The essence of the American dream is an equal chance, an equal voice, and the most essential tool we have to preserve our common dream is our vote and equal access to the ballot. But our participation at the ballot last November comes way too close to what Dr. Martin Luther King Jr. described as "the ultimate tragedy" of silence. Only a little more than 36% of eligible voters turned out for that midterm election. And even worse than that, only around 21% of voters under 30 turned out. Over half of the American people slept through the last election and over 75% of young people stayed silent about things that matter. So forget about "we shall overcome" and "we shall not be moved" when over half of the guardians of the American dream and three-quarters of America's future say, "we can not be bothered."

The task before us is to engage our neighbors in democracy. And that doesn't mean only those neighbors who we know are going to vote the same way we will. No, we must fight against the polarization and divisiveness of our current political landscape and reclaim OUR role as the government of the UNITED States of America. Because the short space across the aisle is not the Grand Canyon and when we focus less on commentary and more on the common good, we will find solutions to the problems we face and find that the path to progress and prosperity is not as treacherous as we once thought when we walk it together.

At a time when participation at the polls is declining, the last thing we should be doing is creating laws that are designed to further decrease participation at the polls. When we see a decline in the number of young people who are engaged as participants in democracy, the last thing we should be doing is taking away education programs and registration opportunities. We should be expanding early voting, weekend voting, and making sure that people who don't have access to the documents they need to get a state issued ID have alternate ways to validate their identity if it's required at their polling places.

Here in Washington, you have a bill to expand the Motor Voter law that was introduced in 2013 and would allow 16 and 17 year olds to pre-register to vote in your state. Around the same time they are taking Civics in high school, they could have the opportunity to pre-register to automatically be ready to vote when they turn 18. When they reach the milestone of getting a driver's license, they would have the opportunity to get ready for the next milestone of being dutiful citizens in the voting booth. This bill has passed the House and now needs to pass the Senate. So, contact your State Senators, you guys. Get it done!

And if any of your leaders want to fight against doing their due diligence to encourage young people to fulfill their duty as citizens, you need to stand up. If they suggest that young people are not capable of understanding the issues before them, you remind them that this is the United States of America and that OUR children are capable and competent and will not be used as props in their party games to illustrate their disregard and disdain for the people they were elected to serve. You remind them that if they can't serve our future, they do not deserve to be leading at present. You tell them that the Constitution of this nation charges them to secure the blessings of liberty to ourselves and our posterity.

Dr. Martin Luther King had a dream that one day this nation would rise up and live out the true meaning of its creed: "We hold these truths to be self-evident, that all men are created equal." In order for this nation to rise we must revive our fellow citizens from the coma of complacency and bridge the divides between our neighbors that stem from differing ideas in order to focus on common ideals. Your state song here in Washington says, "We greet the day with head held high and forward ever is our cry." Back home in North Carolina, we call out at Moral Monday, "Forward together, not one step back!"

Each of us is called to use our voice as an instrument in the great symphony of things that matter. Our dreams are linked with the dreams of Dr. Martin Luther King Jr. who dreamed of a day when freedom would ring from every mountainside and all people would be free at last. They are linked with those of our forefathers who dreamed of America being crowned not by wealth or power, but by brotherhood from sea to shining sea.
(Visited 144 times, 1 visits today)