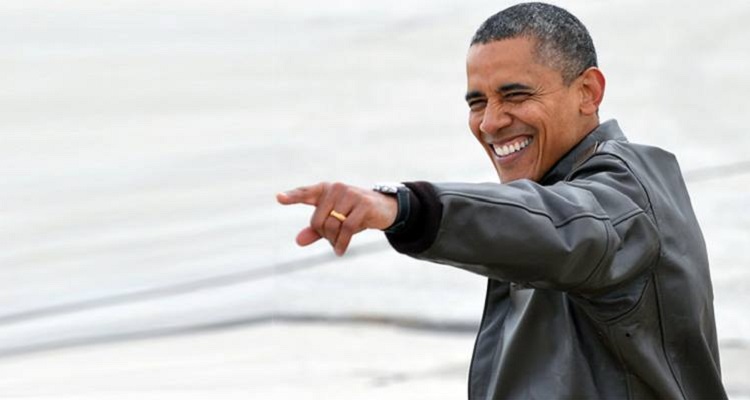 Republicans who are hellbent on painting President Obama as a Muslim, Kenyan, Communist stoner will have to work a little harder at smearing him.
Why?
Because despite the GOP obstruction, the temper-tantrums and the unprecedented effort to destroy the president, Obama emerges the victor once again and this time it's a one-two-three punch!
Suck it haters.
1. President Obama's approval rating just hit 50%. 
Half of Americans approve of President Obama's job performance for the first time in 19 months, according to a new poll released Monday.

It is the first time that Obama has held a 50 percent approval rating in the Gallup daily tracking poll since June 2013. He's now 5 percentage points above water, with 45 percent of Americans disapproving of his job performance."
2. CBO Report:  Deficit to Shrink to Lowest Level of Obama Presidency.
Solid economic growth will help the federal budget deficit shrink this year to its lowest level since President Barack Obama took office, according to congressional estimates released Monday.

The Congressional Budget Office says the deficit will be $468 billion for the budget year that ends in September. That's slightly less than last year's $483 billion deficit."
3. CBO Report: Obamacare Will Cost 20%  Less Than Initial Projections
Obamacare, as it is commonly known, will cost 20 percent less than previously projected over the next decade, the CBO said Monday. The reason for the revised estimate is a result of a decline of healthcare inflation, the Los Angeles Times reported. In addition, the number of uninsured Americans has fallen by 12 million, the CBO estimates, and an additional 12 million are expected to gain insurance by the end of 2016."

Like Kimberley a. Johnson on Facebook HERE or follow her HERE.
(Visited 38 times, 1 visits today)