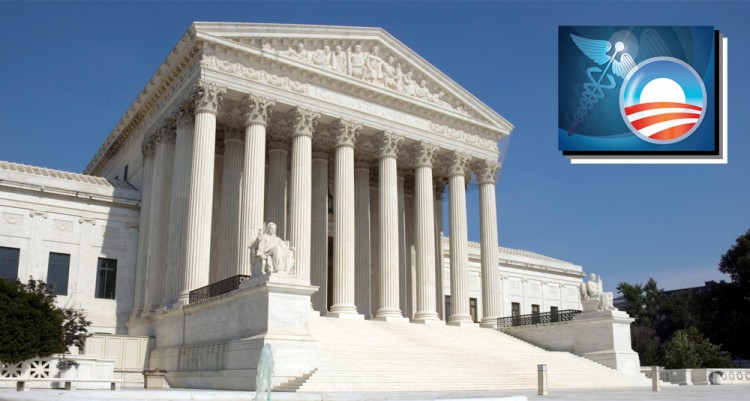 The Republican Attorney Generals of six states filed an amici curiae (friend of the court) brief with the United States Supreme Court in late December in an attempt to gut Obamacare, the nation's controversial national healthcare program.
Those states include Alabama, Georgia, Nebraska, Oklahoma, South Carolina and West Virginia, but as Think Progress reports, one of the key claims in this brief "is at odds with a pile of evidence to the contrary," to include "explicitly contradictory statements from the Republican governors of several states, including three of the states represented by these six attorneys general." Additionally, none of these six attorneys general have presented any evidence to support their central claim in the petition.
Think Progress goes on to explain that "the Affordable Care Act explicitly says that states should have "flexibility" to decide whether they want to operate health exchanges where their residents can buy health insurance, or whether the federal government should operate an exchange for them." Nevertheless King v. Burwell, the Obamacare case currently under consideration by the Supreme Court, "alleges that the residents of states who chose the second option lose access to tax credits intended to help them pay for insurance."
However, as Think Progress explains to prevail, "the plaintiffs in King must do more than simply show that they have discovered the best way to read Obamacare's text."
Under the Supreme Court's decision in Pennhurst State School and Hospital v. Halderman, a state cannot be bound by an alleged condition tucked into a federal grant program "if a State is unaware of the conditions or is unable to ascertain what is expected of it."

[…]

[Additionally] under the Supreme Court's opinion in Arlington Central School District v. Murphy, the question of whether a state is able to ascertain whether federal money comes with conditions must be evaluated "from the perspective of a state official who is engaged in the process of deciding whether the State should accept . . . the obligations that go with those funds."
This last part is important as "there is a wealth of evidence showing that state officials did not read Obamacare in the same way the King plaintiffs do" and it turns out that there is ample evidence supporting a decision against the plaintiffs in King and those attorney generals.
As Think Progress concludes their analysis, they report that:
On Wednesday, a much larger bloc of 22 states plus the District of Columbia filed their own brief opposing the King plaintiffs' attempt to cut of tax credits. After reading that brief, it is not hard to guess why the smaller group of anti-Obamacare attorneys general were not able to muster any evidence for their position — there are piles of evidence demonstrating that the six attorneys general are simply wrong about how state officials understood the law.
Of the six states represented by their attorneys general in the amici brief, there are five states with evidence contrary to their claims as set forth in Pennhurst School and Arlington Central:
Lastly, even if the Supreme Court were to gut Obamacare, this leaves Republicans with a huge problem as such a decision would leave 13 million people uninsured, many of them children, and Republicans have yet to consider 0r set forth their own healthcare plan or a fix to Obamacare should this happen.
(Visited 24 times, 1 visits today)