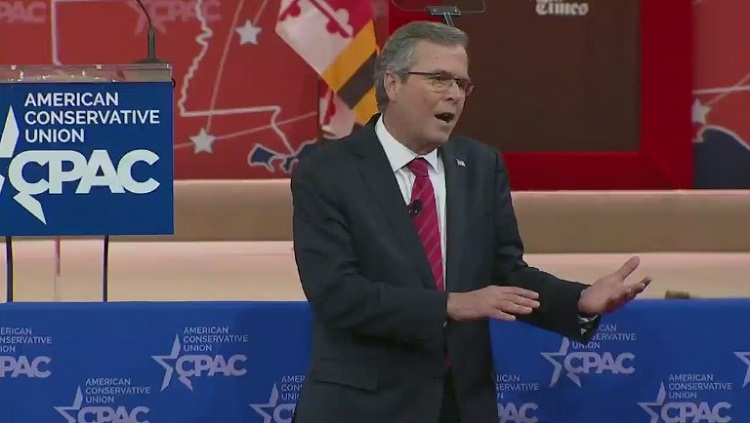 Red Dawn is a new writer for the popular conservative blog Chicks On The Right. She attended CPAC and saw exactly how Republicans reacted to Jeb Bush – and it wasn't positive.
Before I go on, I'd like to note that Red is uber conservative. She's a millennial and a college graduate who thinks colleges are creating a generation of  "little pansy wussies." She loves Ronald Reagan and states that Rush Limbaugh was and is her "political sensei."
I know.
I'm sorry you had to read it but I want you to understand whose Jebbers gossip I'm sharing.
Red explains that Jeb Bush was not popular at CPAC. She claimed she only saw a few people with Bush stickers. She also said that when Sean Hannity asked the crowd if they wanted Bush as their nominee, the room filled with boos. She added the crowd also booed Chris Christie.
Before Jeb spoke, Red says she heard rumors that some folks planned to walk out. She wrote that there were some who chose to leave, and described being disappointed because the size of the crowd who did walk out "wasn't anything really extreme."
She stayed for the majority Bush's appearance and had this to say (emphasis mine):
But this is the thing I found the most interesting. Remember how I previously mentioned that there were like, no Bush supporters here? Suddenly, 10 minutes before his Q&A with Hannity, the room began to fill with supporters. In the moment, I couldn't figure out where they came from. I later found out that Bush's 'Right to Rise' PAC actually brought over supporters from D.C. a few miles away.

So now, the mainstream media is likely going to go crazy saying, 'Hey look! The CPAC crowd actually liked Bush! There were lots of cheers during his remarks!'

I'm here to tell you no. That's 100 percent media manipulation. Those people were bussed in, but don't forget (sic) to hear about that from the mainstream media."
The 2016 election is sure to be a crazy, terrifying ride. It will certainly be interesting to watch the right melt down when Jebbers is announced as their nominee. Because, we ALL KNOW that's who the GOP establishment wants to choose.
***BONUS**** Take a look at some of the Facebook comments about Red's post HERE.
Please take a moment and Like Kimberley A. Johnson on Facebook.

(Visited 10 times, 1 visits today)