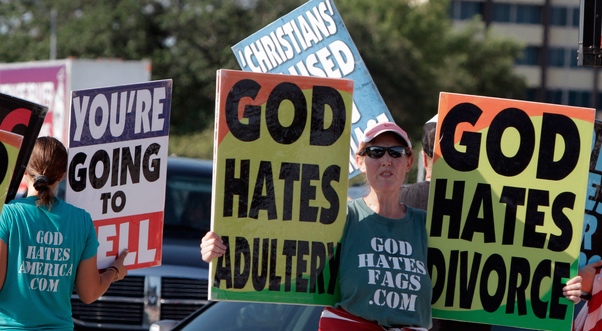 Never able to let a high profile opportunity go by without latching on to it, the Westboro Baptist Church – and I use the word "church" only because it is how they identify themselves – is tweeting their plans to picket the funeral of Leonard Nimoy.
In their usual fashion, the Westboro lunatics are spewing their message of hatred all over the Twittersphere.
Leonard Nimoy passed from this earth on Friday, February 27, leaving behind a legion of fans. Best known for his role as Mr. Spock in the Star Trek franchise, he also starred in a number of motion pictures and television shows and was an accomplished author and photographer.
If Nimoy's family decides to hold a public service, it is doubtful that fans will allow the members of the hate group to upset the proceedings. In past efforts to wreak havoc at a Newtown, CT memorial, a biker gang kept the so-called religious group from interrupting the service. Likewise, Santa Monica residents chased away the church members when they attempted to picket Santa Monica High School in Los Angeles for being too tolerant of gay students.
Among the many vile tweets on their Twitter page, they couldn't pass up the opportunity to bag on the president as well, Obama having made the terrible mistake of paying tribute to Mr. Nimoy.
If your stomach can take it, here are a few examples of the venom by those who dare to identify themselves as a "church."
A more logical #vulcanSalute than #LiveLongAndProsper https://t.co/gF4Csr8DLg #LeonardNimoy #FagEnabler #PicketFuneral

— Westboro Baptist (@WBCSaysRepent) February 28, 2015
"Live long and prosper." –Leonard Nimoy as Mr. Spock Better parting line would've been: "Serve God and live." pic.twitter.com/YQ1M51y4oq — Westboro Baptist (@WBCSaysRepent) February 28, 2015
Watch for this new WBC sign at an upcoming funeral picket near you: #FAGTREK!

— Westboro Baptist (@WBCSaysRepent) February 28, 2015
Fag birds of a feather! @BBCWorld: "I loved Spock" – President Obama pays tribute to Leonard Nimoy pic.twitter.com/a11NxJd3MK #fagtrek! #picket — Westboro Baptist (@WBCSaysRepent) February 28, 2015
Follow Ann on Facebook and Twitter
(Visited 47 times, 1 visits today)