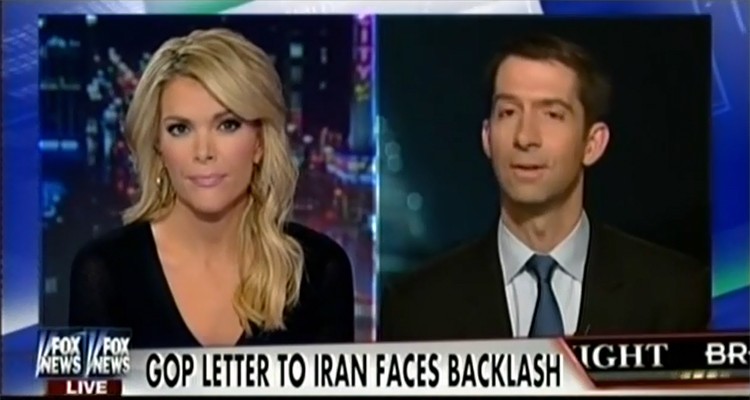 Fox News' Megyn Kelly grilled Sen. Tom Cotton (R-AR) on Tuesday night's edition of The Kelly File.
Monday, the conservative Wall Street Journal called Cotton's letter "a distraction," allowing President to change the narrative on the ongoing nuclear negotiations:
The problem with the GOP letter is that it's a distraction from what should be the main political goal of persuading the American people. Democratic votes will be needed if the pact is going to be stopped, and even to get the 67 votes to override a veto of the Corker-Menendez bill to require such a vote. Monday's letter lets Mr. Obama change the subject to charge that Republicans are playing politics as he tries to make it harder for Democrats to vote for Corker-Menendez.
Cotton objected when Kelly cited the article, asking him whether he thought the letter was helpful to the ongoing negotiations with Iran.
Cotton responded to her line of questionings, saying:
Well, on the contrary, Megyn, I think that this debate we're having is incredibly important and helpful to raising just what a bad deal President [Barack] Obama is about to make with Iran. The last two days, we've focused on the terms of the deal, which is: One, President Obama will accept a 10-year sunset clause; and two, he has conceded a vast Iranian enrichment capability.
Kelly went on to question Cotton's rationale for writing Iranian leaders, noting that it may have harmed efforts to get Democrats to join Republican efforts:
But what's the point in writing to the Iranian mullahs? What are you gonna do? They dismissed it already like 'pffft, whatever,' and you've offended the Obama administration and you may have offended some of the Democrats who would have come over with the Republicans depending on what happens with this deal, to have a stronger say in the Senate.
Cotton fell back on his already debunked claim that Iranians don't understand the Constitution, responding:
So we need to be crystal clear with the leaders of Iran: Any deal that's not approved by Congress won't be accepted by Congress. Not now, and certainly not in the future, because Congress is focused on stopping Iran from getting a nuclear weapon. Today, tomorrow and 10 years from now.
Kelly also brought up Vice President Joe Biden's statement regarding the letter with Cotton responding that:
 His focus on the process just goes to show he knows he can't defend the deal.
Cotton also invited Biden to a debate over the issue:
I would be happy to debate Vice President Biden, one on one, at any time, in a place of his choosing, maybe right here on your show, Megyn.
You can watch the interview, below:
(Visited 38 times, 1 visits today)