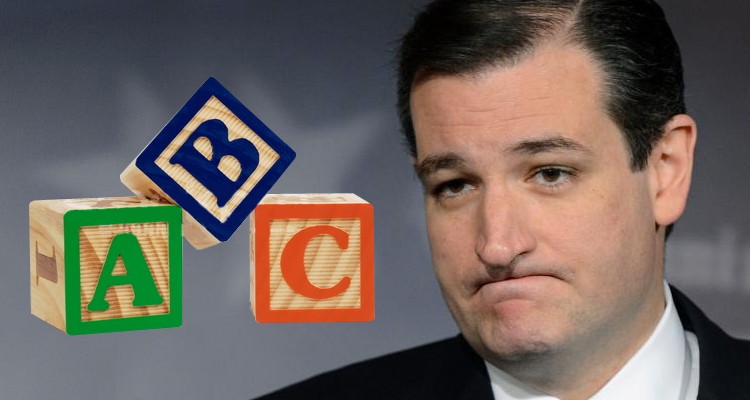 Tea Party favorite Ted Cruz is well-known for fighting lost causes, such as last year when he accidentally saved the day for President Obama's presidential actions on immigration (although Republicans and Tea Partyers continue their hand at battling them).
For some reason, Cruz seems to have a passion for making a fool of himself on Twitter, such as the time he responded to Al Franken's schooling on net neutrality in a most ridiculous way. Tweeting what he refers to as a "simple message" (and boy is it ever), the junior Senator from Texas completely obliterated any indication whatsoever that he has a clue what he's speaking about.
Well, he's at it again, this time lashing out at federal role in education and calling for the repeal of Common Core in yet another misguided tweet.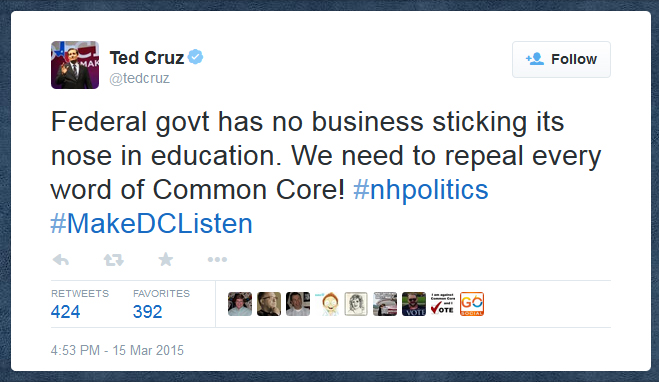 The problem is – Common Core is not a federal law. Rather it is a states initiative. As ThinkProgress explains:
The Common Core State Standards Initiative, known as Common Core, was developed by the states — with input from teachers, education experts and business leaders — and has been voluntarily adopted by 43 states and the District Of Columbia. Notably, "the federal government played no role in creating the standards, nor did it require that states adopt them."
As one of my favorite teachers from Texas used to tell me,
Do what you want, just don't do it here!
Then again, give 'em hell Ted, you bring us loads of entertainment.
(Visited 64 times, 1 visits today)