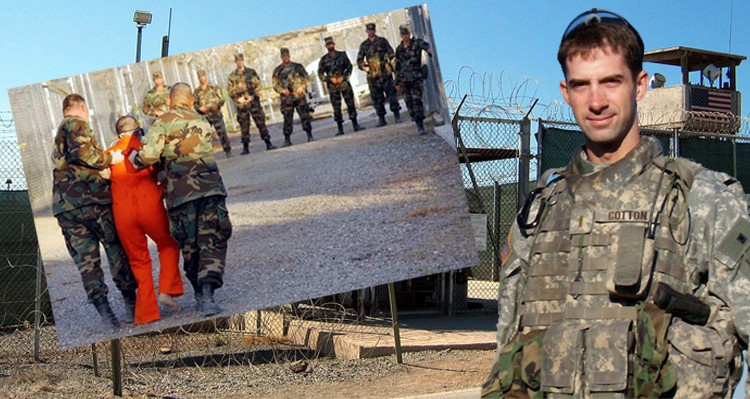 You have all heard about Tom Cotton, the junior senator from Arkansas, by now. Yes, he is a pompous ass for penning that letter to the Iranian leadership. And speaking of his letter, did you know that he met with a group of defense contractors the next day after penning that mutinous letter?
But here's the worst part, were you aware that his dementia has been flaring up for a while now?
In March of 2013 while serving as a member of the U.S. House of Representatives, Cotton proposed punishing family members of anyone violating U.S. sanctions to Iran with up to 20 years in prison with "no investigation" or trial.
According to Cotton, family members targeted for punishment include any relative to the third degree such as "spouses… parents, children, aunts, uncles, nephews, nieces, grandparents, great grandparents, grand kids, great grand kids."
Cotton told a markup hearing before the House Foreign Affairs Committee on the matter that:
There would be no investigation. If the prime malefactor of the family is identified as on the list for sanctions, then everyone within their family would automatically come within the sanctions regime as well. It'd be very hard to demonstrate and investigate to conclusive proof. [emphasis added]
How about last October when, as serving as a U.S. Representative, Cotton suggested that ISIS could carry out terrorist attacks in Arkansas through their connection with Mexican drug cartels:
The problem is with Mark Pryor and Barack Obama refusing to enforce our immigration laws, and refusing to secure our border. I'll change that when I'm in the United States Senate. And I would add, it's not just an immigration problem. We now know that it's a security problem. Groups like the Islamic State collaborate with drug cartels in Mexico who have clearly shown they're willing to expand outside the drug trade into human trafficking and potentially even terrorism.

They could infiltrate our defenseless border and attack us right here in places like Arkansas. This is an urgent problem and it's time we got serious about it, and I'll be serious about it in the United States Senate.1
Or how about the time he boasted on Fox's "The Kelly File" about how "proud" he was about the way the "savages" were treated in Guantanamo Bay military prison.
Terrorists need no excuse to attack us here. They've shown that for decades and decades. We should be proud for the way we treated these savages at Guantanamo Bay and the way our soldiers conduct themselves all around the world to include the people doing the very hard work at Guantanamo Bay.
As an aside, Megyn Kelly stepped up after Cotton's letter to Iran when she asked him about a letter that was published by the conservative Wall Street Journal calling Cotton's letter "a distraction." She went on to mock his response, telling him: "But what's the point in writing to the Iranian mullahs? What are you gonna do? They dismissed it already like 'pffft, whatever.'"
Returning to Cotton, there's the time, earlier this year, when Cotton blasted President Obama's efforts to close the facility, telling a Senate Armed Services Committee that:
In my opinion, the only problem with Guantanamo Bay is that there are too many empty beds and cells there right now. We should be sending more terrorists there for further interrogation to keep this country safe. As far I'm concerned, every last one of them can rot in hell. But as long as they don't do that, they can rot in Guantanamo Bay.2
To top it all off, it was reported last week that "the Arkansas Senate just sent SB803 to the House3," a bill what would allow "a candidate to run for president or vice president of the United States and simultaneously run for the U.S. Senate or House of Representatives," according to Arkansas Online.
The Arkansas Traveler reported that "The sponsor of the bill, Senator Bart Hester, R-Cave Springs, named ole T-Cott as the intended recipient of such benefits," adding that "It boggles the mind, how any rational being, could seek to put this man in the most powerful position on the planet."
---
FOOTNOTES:
1. You can check out the audio here.
2. You can check out the video here.
3. The bill was assigned to the State Agencies and Governmental Affairs Committee in the House on March 11th and they passed the bill back to the full House on March 18th with the recommendation "do pass."
(Visited 117 times, 3 visits today)