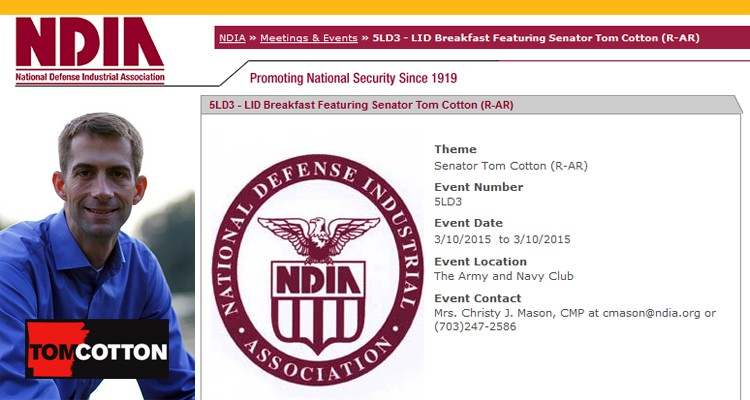 Meet freshman Senator Tom Cotton (R-AR) the now infamous alleged author of the Republican open-letter to Iran.
As Huffington Post reported back in January, Cotton proved to be "one of the most hardline foreign policy hawks" in the Senate less than a month into his first term as U.S. senator.
During an appearance on CNN, Cotton called for a new "war on Islamic terror," saying the U.S. military must "get back on offense all around the world."
"We can't win the war on Islamic terror on defense, we have to win on offense," Cotton told CNN. In a speech to The Heritage Foundation the day before, Cotton had compared the negotiations of the P5+1 (the U.S., Russia, China, the U.K. and France, plus Germany) with Iran to the appeasement of Nazi Germany. He also said Obama was wrong not to send U.S. forces to intervene in Syria's civil war.
Now in a damning article, Lee Fang of The Intercept reported that a mere 24-hours after submitting his open-letter to Iran,
Cotton will appear at an "Off the Record and strictly Non-Attribution" event with the National Defense Industrial Association, a lobbying and professional group for defense contractors.

The NDIA is composed of executives from major military businesses such as Northrop Grumman, L-3 Communications, ManTech International, Boeing, Oshkosh Defense and Booz Allen Hamilton, among other firms.
Fang goes on to report that last December, Cotton said that "Congress should consider supplying Israel with B-52s and so-called 'bunker-buster' bombs — both items manufactured by NDIA member Boeing — to be used for a possible strike against Iran."
Can anyone say "fat defense contractor campaign donations," sure, I thought you could.
(Visited 89 times, 1 visits today)