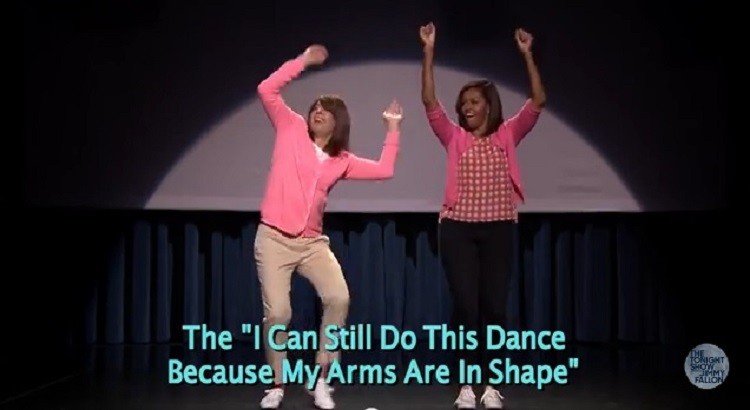 Michelle Obama proves once again that she's the coolest First Lady ever.
FLOTUS joined Jimmy Fallon Thursday night, and together they did a follow-up to their 2013 edition of "The Evolution of Mom Dancing."
Some of the highlight moves include The "Shush and Tush,"  The "You Go Girl,"  The "I Can Still Do This Dance Because My Arms Are In Shape,"  and "This Old Thing? I Got It At Talbots."
They also teased each other with Fallon mocking President Obama's dance moves and FLOTUS mocking Fallon's moves.
A quick note to the haters who will no doubt comment and say mean and nasty things about the First Lady's attempt to get America healthy and moving:
Turn your frowns upside down because all of your mean-spirited ill-will is bad for your health!! She encourages and promotes healthy eating and exercising. She doesn't have some diabolical plot to take away your beloved junk food. She just wants everyone to be happy, healthy and fit – including those who make mean comments on her fun videos.
Michelle Obama ROCKS. 🙂
Please take a moment and Like Kimberley A. Johnson on Facebook.

(Visited 10 times, 1 visits today)