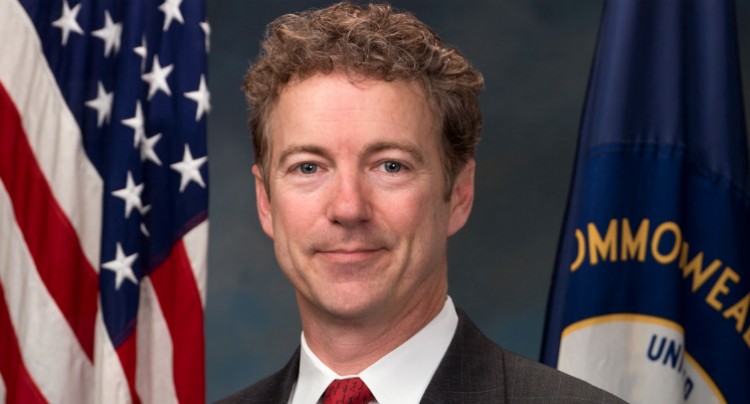 Libertarian Rand Paul can sometimes sound like he's sane. Hey! He's for things like legalizing marijuana and I'm down with that. But just when you think you could like the guy, he goes off the rails. An examination of his budget proposals is enough to curdle your blood and make horror writer Stephen King jealous. Yeah, it really is that bad.
The only presidential candidate to have prepared his own detailed budget, Paul has done so not once, not twice, but three times – in 2012, 2013 and 2014. He's got the same old, same old we've seen before in Republican budgets – things like privatizing Medicare, partially privatizing Social Security, block grants for Medicaid and Food Stamps, increasing retirement age, and benefit cuts for upper-income wage earners – you, know, the usual fare – but the wrinkles Paul has come up with give new meaning to the word draconian.
An examination of this chart illustrates the huge gap in Paul's budget. It is almost as far from the Ryan Budget as the Ryan Budget is from the Democrats' Budget.
According to Paul, the 16th Amendment forbids the income tax from redistributing wealth. His answer? A 17 percent flat tax, which he included in both the 2013 and 2014 budget proposals. There are a lot of people who think this is a great idea. Those would be the people who would benefit from what would amount to a huge tax cut. The rest of us? Not so much. And for the poor, it would be a one-way trip to never-ending penury.
His budgets for all three years, but primarily in 2013, call for a cut of 20 percent to the Centers For Disease Control and Prevention.
He wants to cut the National Institutes of Health by 20 percent.
The Food and Drug Administration is also on the chopping block, with a proposed cut of 20 percent because "new FDA powers granted by the recent Food Safety Modernization Act grant the government further intrusion into the nation's food supply."
NASA gets a cut of 25 percent because "with the presence of private industries involved in space exploration and space tourism, it is time for NASA to look at ways to reduce spending … since President Obama has determined to realign the goals of NASA away from human space exploration to science and 'global warming' research, there is also a need to realign the agency's funding."
Another 20 percent is lopped off the US Geological Survey because "though these are important activities, they can be given to state researchers at our colleges and universities."
He completely eliminates the Bureau of Reclamation because "owning a majority block of energy and water resources is not the business of the federal government."
Gone too will be the Bureau of Indian Affairs due to "swindled and mismanaged billions of dollars in Indian trust funds."
Cutting National Parks by 30 percent will save money and "returning these lands back to the states and/or the private sector would allow an increase in quality, safety and a reduction in government spending each year."
Indian Health Services, which according to Paul are "notoriously wrought with fraud" would be cut by 20 percent.
Goodbye to the government printing office because "every government office and agency should budget for their own printing costs."
His 2012 budget slashes funding for the National Science Foundation by 62 percent. The State Department is cut by 71 percent. The Interior Department takes a 78 percent hit. No more Department of Energy, except for nuclear programs and those will be shunted over to the Department of Defense. There's an 85 percent cut to the General Services Administration, a 49 percent cut to the Department of Transportation, a 49 percent cut to the Department of Agriculture, a 26 percent cut to the Department of Health and Human Services, the Justice Department is cut by 28 percent and the EPA by 29 percent.
He proposes the elimination of the Department of Education, will keep Pell grants but rolls them back to 2008 levels and indexes them to inflation. That represents an 83 percent cut. He included those same cuts to education in his 2013 and 2014 budgets. Two main sources for K-12 funding would disappear: Title 1 grants and IDEA grants for special education. It would also mean that direct federal student loan programs would be gone.
All three budgets also impact the Department of Housing and Urban Development. There would be no more Section 8 housing vouchers, no more FHA backed loans and no more Hope VI rehabilitation of housing projects.
In 2012, Paul's budget called for making the Earned Income and Child Tax Credits non-refundable. In 2013, he went further and eliminated them altogether.
For fiscal year 2012, Senator Paul proposed eliminated all foreign aid, including to allies like Egypt and Israel. His 2013 budget softened a bit and slashed foreign aid to $5 billion – a huge cut when one considers the current budget for foreign aid is about $37 billion.
Not surprisingly, he has called for Defense cuts – something that a lot of people would agree needs to be done. Initially, his 2012 budget called for cutting Defense by about 30 percent by 2016 and his 2013 budget proposal was much the same, however, those were measured against a baseline where sequestration had not yet kicked in. But by the time the 2014 budget was released, it was clear that sequestration was on the horizon and those cuts are so deep, the Paul budget actually increased spending. Since neither Democrats nor Republicans support huge defense cuts, the increase is hardly worth noting.
If the Rand Paul dream budget were passed and enacted, the United States of America would overnight be worse than any banana republic one can think of. The middle class would disappear, the poor would become destitute, the rich would become obscenely richer and trust me, not one red cent would trickle down to anyone. We would have a singularly uneducated, debt-ridden populace at the mercy of the plutocracy.
The Rand Paul Budget is a Libertarian's dream. It is a nightmare for the rest of us.
(Visited 25 times, 1 visits today)