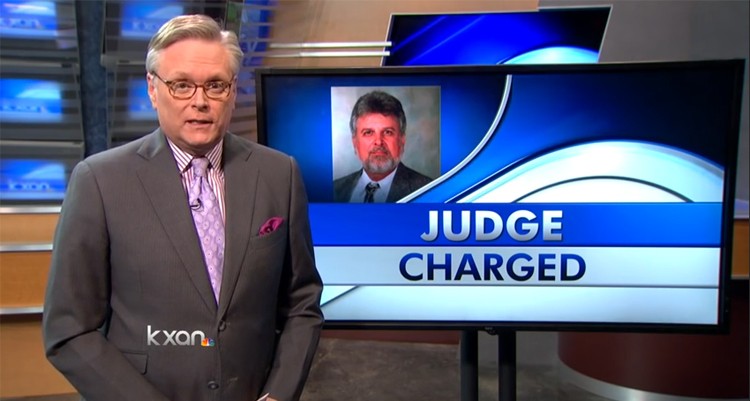 A Texas judge is off the bench after being indicted1 on nine charges, seven related to firearms and two counts of making false statements.
Federal prosecutors unveiled a nine-count indictment1 against Williamson County Court-at-Law No. 2 Judge Tim Wright on April 7 and the State Commission on Judicial Conduct suspended him a day later.
The indictment alleged that Wright was selling firearms to a convicted felon, helping to smuggle firearms, and lying to law enforcement about gun sales, among other charges.
According to the indictment1:
On three dates in February, Wright sold seven pistols to "J.C.," a person Wright knew or had cause to believe had been convicted of a crime punishable by more than one year in prison.
Between June and October 2014 and Dec. 4, 2014, and March 27, Wright helped or attempted to export multiple firearms from the country, although the judge did not have a license or authorization to export the guns.
Wright purchased six Zastava M92 firearms at a Georgetown gun store on July 14, 2014 and allegedly lied on a written statement, claiming he was the actual buyer of the guns when he was actually purchasing them for someone else. He lied on in an additional document at another gun store on Dec. 19, 2014, when buying two Glock .45 caliber pistols.
On March 27, it is alleged that Wright lied to an ATF agent by claiming he had not sold any guns "between the time ATF agents visited him on Sept. 23, 2014, and the time in January 2015 when he began selling as a licensed firearm dealer." The indictment alleges that statement was false because Wright had sold guns in December 2014 and then "created false paperwork representing falsely the sale took place in August 2014."
Lastly, the indictment alleges Wright knowingly lied to the ATF agent when he told him he hadn't sold J.C. any guns or allowed him to be present at sales after learning J.C. was a felon. The indictment alleges that statement was false because Wright had sold J.C. guns three times after learning of J.C.'s felony convictions.
VICE News reports that:
If convicted of all nine charges, Wright could face up to 70 years in prison—ten years for each of the five firearm charges, and five years for each of the false statement charges. His lawyer maintains his innocence, and says Wright has a license to sell guns. The indictment says Wright did indeed obtain a license in January, but that he began selling—to a convicted felon—nearly a year ago.
Texas Lawyer reported2 that "the government also seeks to seize the judge's 51 guns, $42,604 in alleged criminal proceeds and a 2013 Ford F-150."
FOOTNOTE 1: The specific charges in United States of America vs. Timothy L. Wrights, III, aka "The Judge" were filed in an indictment, 1:15-cr-00089-SS-1, with the United States District Court, Western District of Texas, Austin Division, and includes the following charges:
18:922D.F & 924(a)(2) – SELLING FIREARMS TO PROHIBITED PERSON (counts 1-3)

18:554.F & 18:2 – FACILITATING THE SMUGGLING AND ATTEMPTED SMUGGLING OF FIREARMS (Aiding and Abetting) (count 4)

18:554.F – FACILITATING THE SMUGGLING AND ATTEMPTED SMUGGLING OF FIREARMS (count 5)

18:922A.F & 924(a)(2) – FALSE STATEMENT DURING A PURCHASE OF FIREARM (counts 6-7)

18:1001.F – FALSE STATEMENT TO GOVERNMENT AGENTS (Counts 8-9)
FOOTNOTE 2:  Texas Lawyer requires you to sign up in order to access full articles with viewing of up to 5 articles per month for free. http://www.texaslawyer.com/id=1202723220733/Judge-Indicted-on-Federal-Firearms-Charges#ixzz3XD0kw6Pw
(Visited 36 times, 1 visits today)