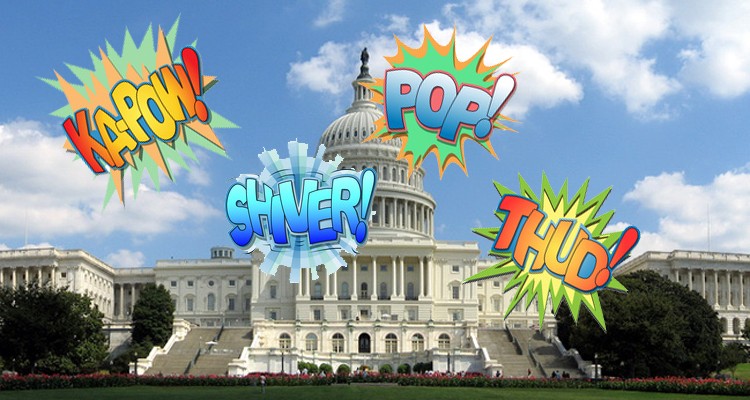 The Senate finally got their act together late Tuesday and came to a compromise on the human-trafficking bill that had been stalled in the chamber for a month, blocking the confirmation of Loretta Lynch as attorney general along the way.

Dana Milbank of The Washington Post handed the Senate their collective asses-on-a-plate in an outstanding opinion piece published late yesterday.
Milbank began his piece by describing the love-fest, writing that everyone seemed to be kissing everybody else's ass on the Senate floor:
Harry Reid thanked Patrick Leahy and Patty Murray, who praised Amy Klobuchar, who gave a nod to Mitch McConnell, who credited John Cornyn, who touted Chuck Grassley, Mark Warner, Heidi Heitkamp and Susan Collins.
He goes on to quote John Cornyn (R-TX) , the No. 2 Republican, as saying:
I've actually been somewhat surprised and more optimistic than I have been in a long time about how the Senate is beginning to work again. After a long period of dysfunction in the United States Senate, we are starting to see the United States Senate work again the way it should work. . . . I have hope for even more positive things to occur.

Now it's time for the good stuff. Milbank interrupts the festivities writing:
It might be worth interrupting this victory lap to point out that the lawmakers were taking credit for the legislative equivalent of tying their shoes. The trafficking bill, which combats sex slavery, cleared committee unanimously but had been hung up over an extraneous provision about abortion funding; the dispute compounded a months-long delay for Lynch, who has enough votes to clear the Senate.
Pointing out the near complete failure of the Republican led Senate so far this session, Milbank concedes that "in this environment, baby steps count."
However, as he concludes,
But it wasn't long before the lawmakers were bickering again — this time about who should get the glory for the bipartisanship. McConnell said Democrats get "some credit," if only because "we've given them an opportunity." But his colleagues claimed credit for Republicans.

"When Republicans took control here, getting Washington working again wasn't just a campaign slogan. . . . We are following through on it," Sen. John Thune (R-S.D.) said after lunch with his GOP colleagues.

Sen. Roger Wicker (R-Miss.) hailed Republican leaders for "creating an atmosphere . . . where bipartisanship can break out."

But Reid was having none of it. "Everything we've been able to get done has been things that we tried to get done when we were in the majority and they stopped it through their filibusters," he said after lunch with Democratic colleagues. "We are not opposing things just to be opposing them as they did."

The bipartisan bonhomie had lasted all of four hours.
(Visited 26 times, 1 visits today)