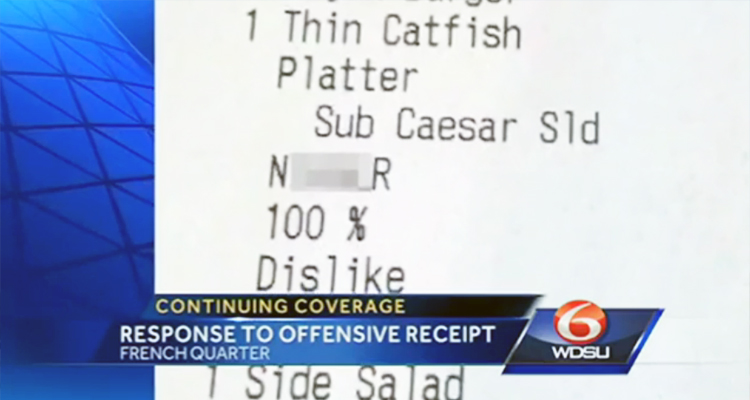 The daughter of a member of The Neville Brothers was given a receipt with a racial slur on it at a New Orleans restaurant on Friday and reports she "had a breakdown" after the incident.
"I've never been through anything like this," Liryca Neville-Branch told reporters Friday, alongside her attorney. "I like to consider myself a strong person. Last night, I couldn't sleep. I went to work this morning thinking that I would be OK, but I literally had a breakdown at work this morning and I couldn't stay."
The receipt from Huck Finn's Cafe had the "N-word" printed on it along with "100% Dislike" directly below it.
The receipt was posted to Facebook on Friday by Neville-Branch's mother, Gaynielle H. Neville, who is married to Cyril Neville, a percussionist and vocalist for The Neville Brothers, an R&B, funk and soul group who have been playing together since 1977.
Neville-Branch took to Facebook as well, disputing a statement by Huck Finn's Cafe posted on their own Facebook page and website that they were "appalled and shocked at the actions of one of its employees, who was terminated immediately after management found out they violated company policy." Their page has subsequently been taken down.
You can watch a news clip about the incident, below, courtesy of NBC News:
(Visited 41 times, 1 visits today)