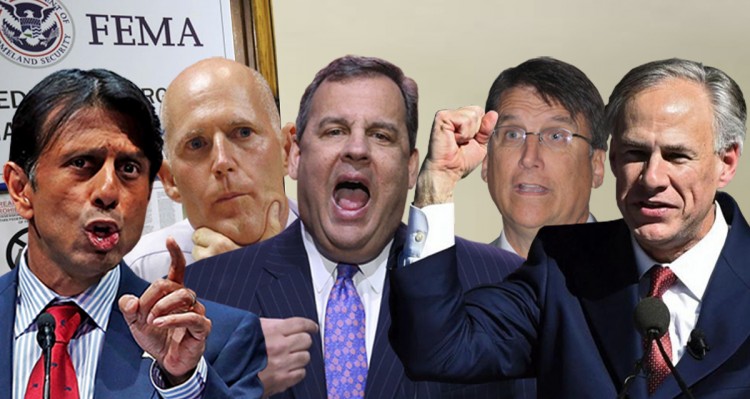 Things are about to get a bit difficult for climate denier governors and their states.
The Federal Emergency Management Agency (FEMA) has put new rules in place that will require governors to approve hazard mitigation plans that address the problem of climate change. That means governors are going to have to acknowledge that climate change is real, it is here and poses risks to their communities. The rules will go into effect in March 2016.
Republican governors like Rick Scott of Florida, Bobby Jindal of Louisiana, Chris Christie in New Jersey, Pat McCrory in North Carolina and Greg Abbott in Texas – all states that are facing immediate threats from climate change – are going to have a hard time with the new rules. All of them have denied that climate change is the result of human activity, and some deny, or at the very least, question there is a problem at all.
Over the past 5 years, FEMA has given an average of $1 billion annually in grants to states and territories that have adopted measures to mitigate the effects of climate change. The new policy will not extend to disaster relief after events like tornadoes, hurricanes or other disasters but it will withhold preparedness funding from states where governors refuse to implement programs that take into account how climate change threatens their communities.
"The challenges posed by climate change, such as more intense storms, frequent heavy precipitation, heat waves, drought, extreme flooding, and higher sea levels, could significantly alter the types and magnitudes of hazards impacting states in the future," FEMA wrote in its new procedures.
Becky Hammer, an attorney with the Natural Resources Defense Council (NRDC), said, "If a state has a climate denier governor that doesn't want to accept a plan, that would risk mitigation work not getting done because of politics. The governor would be increasing the risk to citizens in that state" (on the basis of his climate beliefs).
Barry Rabe, an expert on the politics of climate change at the University of Michigan said, "This could potentially become a major conflict for several Republican governors. We aren't just talking about coastal states. This could affect state leaders across the country." He referenced droughts, rainfall and tornadoes and also cited the link between hydraulic fracturing and earthquake activity in places like Oklahoma and Ohio.
Since the 1980s, FEMA's disaster preparedness program has been granting money to states for a diverse range of projects, from building safe rooms to raising buildings out of floodplains. Since 2010 more than $4.6 billion has been granted to states and territories as part of the program, with Republican-led regions accounting for 8 out of the top 10 recipients. Bobby Jindal's state, Louisiana, was given nearly $1.1 billion for hazard mitigation, making it Number 1. New Jersey came in third, receiving $379 million and Texas, in the news just yesterday because of massive flooding, was fourth, receiving nearly $343 million.
Get ready for some kicking and screaming from certain quarters.
Follow Ann Werner on Facebook and Twitter
(Visited 24 times, 1 visits today)