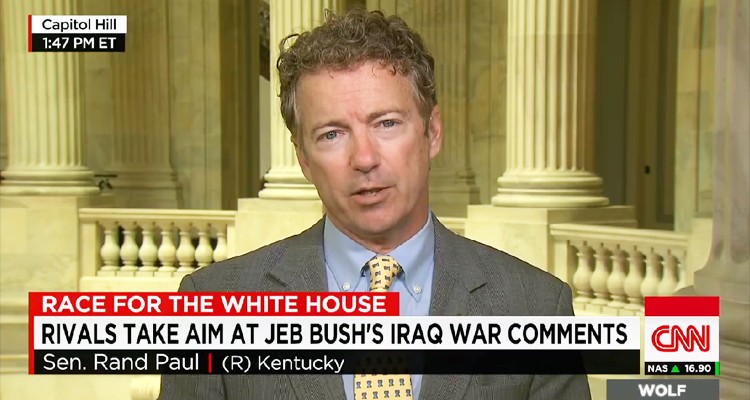 Republican presidential hopeful Sen. Rand Paul (KY) is hammering former Florida Gov. Jeb Bush (FL) for telling Fox News' Megyn Kelly that he would have invaded Iraq in 2003 like his brother did, even knowing what he knows now.
Speaking to The Associated Press, Paul said that it is "a real problem if he can't articulate what he would have done differently," adding "to say that nothing would happen differently means we're going to get George Bush 3."
Speaking about the "hypothetical" nature of the issue, Paul told CNN's Wolf Blitzer:
You know, I think it's a really important question and I don't think it's just hypothetical. Because we seem to have a recurring question in the Middle East whether not it's a good idea to topple a secular strong man or secular dictators and what happens after that.
Paul went on to tell Blitzer that toppling Iraqi president Saddam Hussein left both the region and the U.S. worse off, adding that taking out secular dictators is a bad idea because every time the U.S. has done so, "things have been worse off and America has been less safe."
According to CNN, Paul insisted he's not an isolationist — a charge opponents have thrown at him — and did express support for military action against ISIS, though he called for "Arab boots on the ground" to defeat the terrorist group, rather than American troops.
"I think we're a lot worse off with [Saddam] Hussein gone," Rand Paul tells Wolf Blitzer. http://cnn.it/1NEA9na

Posted by CNN Politics on Wednesday, May 13, 2015
(Visited 22 times, 1 visits today)