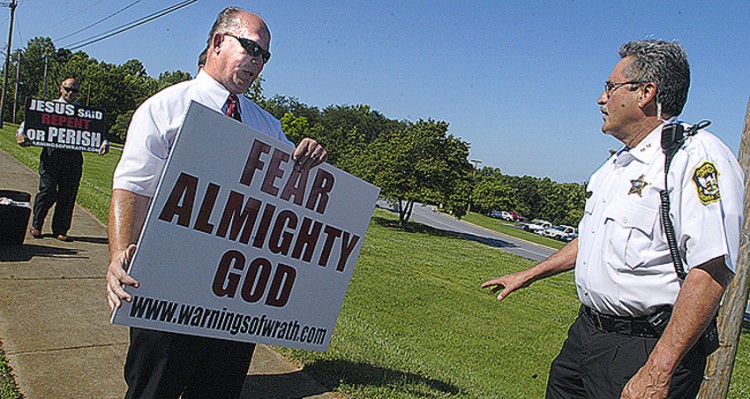 When a homophobic pastor forgot to renew his hate group's domain name a gay rights activist swooped in to purchase it.
In a hilarious turn of events – hateful and homophobic pastor Randy Bryson of the Open Door Baptist Church in Easley, South Carolina forgot to renew his hate-group's website domain name. A gay rights activist saw an opportunity and snatched it – turning the tables completely upside-down on Bryson and company.
Bryson and his followers have a reputation for picketing gay-friendly events on college campuses – brandishing signs damning all "unclean" homosexuals straight to hell. Statements such as "FEAR GOD" and "AMERICA: GOD HATES YOUR SIN" bark out in black, white, and red in their clutched hands. Their website, WarningsofWrath.com, is featured on all of their signs and used to direct visitors to the church's webpage. Now, visitors to the site are treated to a giant wall of hardcore gay site. The content features skinheads involved in obscene acts and more…
The anonymous activist had this to say about his move, "They condemned gays and rock music outside Carolina Rebellion…I bought the (expired) domain from their signs and pointed it at gay porn of people who probably like rock music. Fair?"
Fair indeed. The best part of the joke – wondering how long it took them to figure out what they were advertising – but we doubt many pay them mind anyway. Recent Gallup polls show 55% percent of America supporting gay marriage, with 8 in 10 young adults in favor of gay marriage alone. The times are changing; Bryson and flock now no more than a desperate and dying breed of intolerance.
(Visited 55 times, 1 visits today)