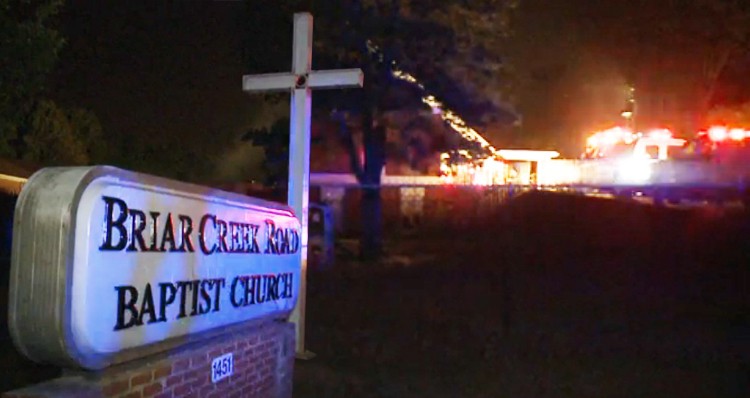 An early morning fire at a black church in Charlotte, North Carolina, is being investigated as arson according to Senior Fire Investigator David Williams.
The Charlotte Observer reports that an emergency 911 call was received at about 12:30 a.m. from a resident in a nearby apartment complex advising that the Briar Creek Road Baptist Church was ablaze.
"The Baptist church on Briar Creek Road right before Central, it's on fire," the caller told dispatchers. "It's really big."
@CharlotteFD: #cltfd Church Fire 1451 Briar Creek Road; This fire was determined to be arson. Please call Crime Stoppers with any info DGist

— Charlotte Fire Dept (@CharlotteFD) June 24, 2015
The church building was a near loss, and the rest of the property received massive smoke damage putting the total loss at an estimated $250,000.
Mannix Kinsey, the pastor at the church and his wife, Rhonda, the co-pastor, are both African-Americans as are most of the about 100 members of the church.
In addition to investigating the fire as arson, Williams said they are working to determine if the fire was a hate crime.
Kinsey says he hopes it isn't. "We are still talking about this same issue and this is 2015," he said. "We all have to consider what else do we need to do to actually be able to work together."
NBC News reports that Kinsey said the church's congregation has already forgiven the culprit. "Buildings can be repaired, they can be built over. This is the opportunity for God to touch the hearts of individuals."
h/t to ericlewis0 of Daily Kos.
(Visited 19 times, 1 visits today)