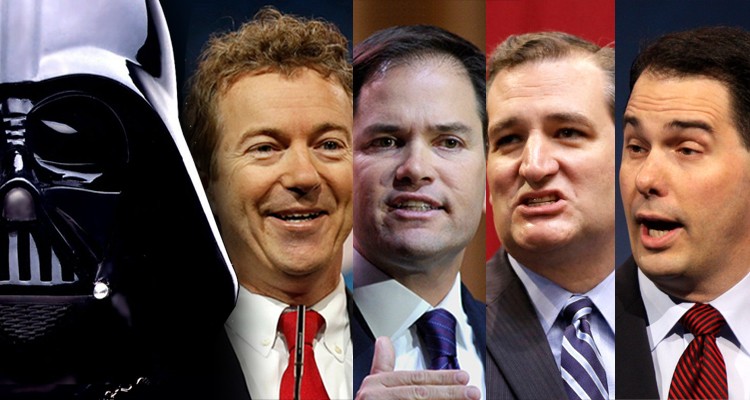 This recent Washington Post/ABC News Survey yielded some surprising results concerning the 2016. First, that Bernie Sanders is currently the only candidate with a positive rating, sitting a +1 favor-ability score, just over zero. This puts The Terminator, Darth Vader, and The Shark from Jaws at higher public rating than the entirety of the 2016 candidates combined.
Bernie sneaks in just over zero, but mostly due to the fact that 62% of respondents said they haven't heard enough about him to form an opinion – and that is arguably worse than a bad reputation in politics. His current competition for public opinion are all fictional mass-murderers, with one of them having family issues that rival the Duggars. The Dark Lord of the Sith, no stranger to incest and religious fanaticism.
In the competition for the worst public opinions, Scott Walker, Rand Paul, Marco Rubio, Hillary Clinton, and Martin O'Malley are the only candidates seen as easier to stomach than Lord Voldemort. Yes, the evil wizard that killed the parents of Harry Potter and started a fictional wizard war is considered more likely to be invited to dinner than Huckabee, Cruz, Bush, Santorum, Christie, and Donald Trump.
The democratic candidates sit at -4 and -5 respectively, while every GOP candidate rating ranges from a score of -8 to -55 – except for Rubio, who currently sits at zero. With the way the numbers sit, expect the next GOP announcement to be running a Terminator in 2016 – it's the only candidate they've currently got, according to the American public, and the last Republican male next to my uncle that isn't already running. If only Arnie was a natural-born citizen.
(Visited 22 times, 1 visits today)