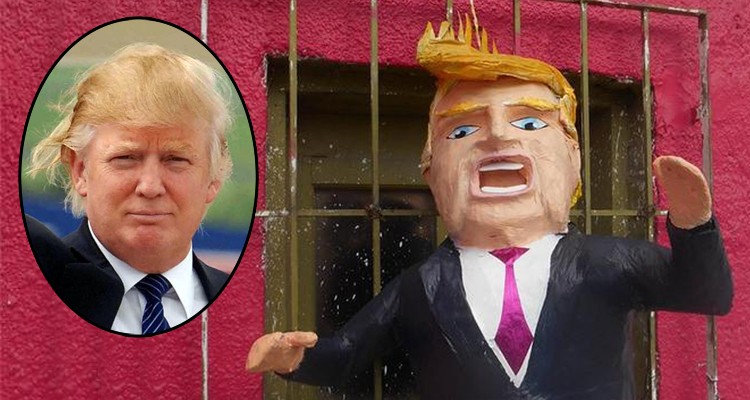 Presidential "hopeful" Donald Trump has been on the receiving end of some cultural trolling following remarks he made about Mexican immigrants. Artist Dalton Ramirez has begun to produce and sell Donald Trump pinatas in response to Trump's recent words on immigrants:
"The U.S. has become a dumping ground for everybody else's problems," Trump said during his Presidential campaign announcement speech. "When Mexico sends its people, they're not sending their best. They're not sending you. They're sending people that have lots of problems, and they're bringing those problems with us. They're bringing drugs. They're bringing crime. They're rapists. And some, I assume, are good people."
Ramirez has said that the pinatas are proving to be very popular with customers unhappy with Trump's comments. Univision, a Spanish language broadcaster, decided to drop its partnership with the Miss USA pageant following the remarks. The studio released these comments in a statement, "At Univision, we see first-hand the work ethic, love for family, strong religious values and the important role Mexican immigrants and Mexican-Americans have had and will continue to have in building the future of our country."
Trump is a producer and has been a primary pusher of the pageant for years. NBC also chose to distance themselves from Trump, stating that "Donald Trump's opinions do not represent those of NBC, and we do not agree with his positions on a number of issues, including his recent comments on immigration."
Miss USA co-host Roselyn Sanchez left the show in response to Trump's words. "Since I heard Trump's speech, as a Latina I felt a lump in my stomach, said Sanchez. 'It's got to be a joke,' I thought."
Trump has since responded by sending a letter to Univision CEO Randy Falco, banning him and his employees from Trump's Miami properties and his golf course in Doral. If Trump's presidential bid was for publicity, he's certainly now with less friends than when he started – but one can guess that immigrants are not who he is selling himself to.