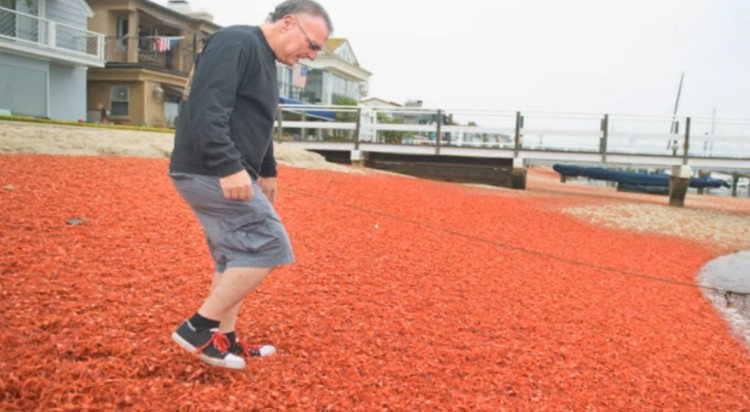 An invasion of red tuna crabs on southern California beaches may signal an impending El Niño. The one to four-inch long creatures have piled up on beaches from San Diego to Newport Beach at depths up to 16 inches thick.
Linsey Sala, collection manager at the Scripps Institute of Oceanography, UC San Diego, posted on the Institute's website: "Typically such strandings of these species in large numbers are due to warm water intrusions."
The crustaceans have been showing up on Southern California beaches for the past several weeks and unless the tide carries them back out into the ocean, they will die, leaving behind a monumental mess to clean up.
There have been two similar red crab invasions in recent years and both occurred prior to El Niño events: in 2002 and 1998.
Ocean temperatures are 4-7 degrees warmer than normal and scientists are predicting a strong El Niño for the United States for the 2015-2016 winter, much like the one that occurred in 1998. If it does happen, it may be the end of the historic drought currently being experienced in California. It may also provide relief from another vicious winter in the eastern and northern parts of the country, since El Niño events typically portend milder winters in those areas. Another added benefit is a lesser incidence of hurricanes, although, as the Weather Service warns, all it takes is one big storm to wreak havoc.
Follow Ann Werner on Facebook and Twitter
(Visited 36 times, 1 visits today)