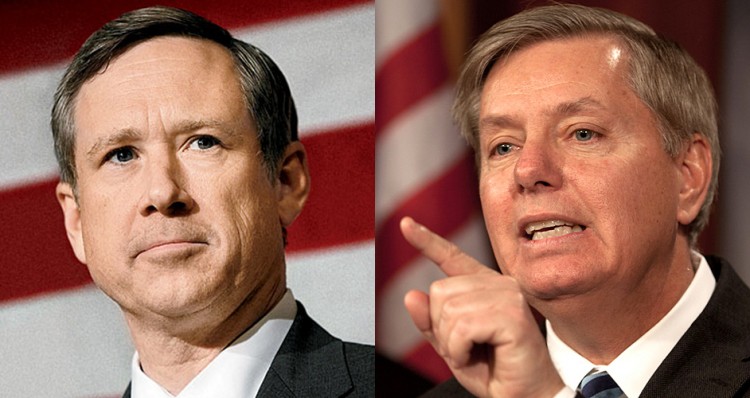 Republican Senator Mark Kirkland (R-IL) was caught on a hot microphone joking that fellow Republican Senator Lindsey Graham (R-SC) is a "bro with no ho."
The comment was captured during an amendment vote for the Defense Appropriations Bill.
Kirk can be heard in the audio recording saying:
"I've been joking with Lindsey…. He's going to have a rotating first lady. He's a bro with no ho. That's what we'd say on the south side."
Earlier this week, presidential candidate and perennial bachelor Lindsey Graham promised a "rotating first lady" in the unlikely event that he wins the presidency.
In a Daily Mail Online interview, the 59-year of senator from South Carolina said, "Well, I've got a sister. She could play the role if necessary." When his sister, Darline Graham Nordone, intimated that she wouldn't be able to be in the nation's capital all the time (she's got a husband and two daughters from previous marriages), Sen. Graham said, "I've got a lot of friends. We'll have a rotating first lady."
NBC News reports that Kirkland's 2016 Democratic Senate oppponent, Rep Tammy Duckworth, purchased the domain brosforkirk.com, which redirects to a fundraising website for Duckworth.
You can listen to the comments, below:
(Visited 123 times, 1 visits today)