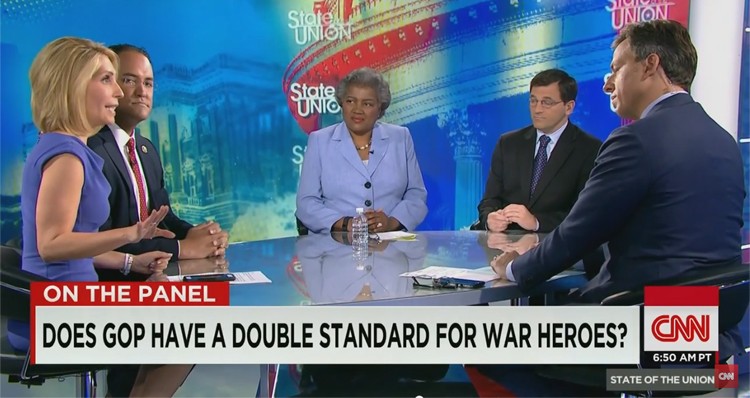 Republican presidential hopeful Donald Trump made disparaging remarks about Sen. John McCain (R-AZ) and his military service on Saturday, saying McCain "was a war hero because he was captured. I like people who weren't captured."
The other Republican presidential hopefuls were quick to condemn his remarks, and on Sunday CNN "State of the Union" host Jake Tapper discussed the GOP hypocrisy surrounding their apparent double-standard regarding veterans, reminding the panel that Republicans were united in smearing John Kerry's military record when he ran for president in 2004.
Tapper began the discussion on Republican double standards by showing the panel a photo from the 2004 Republican National Convention of a person wearing a band-aid with a purple heart on it mocking John Kerry's three purple hearts. He then showed a clip of "one of the standard bearers of the Republican Party," former Republican presidential nominee Robert Dole speaking of Kerry, saying: "with three purple hearts and never bled that I know of. And they're all superficial wounds."
JAKE TAPPER: Congressman Hurd, I want to ask you as the Republican at the table. I have heard from a lot of Democrats who only 11 years ago in 2004 when John Kerry was the nominee of the Democratic Party.  And Bob Dole went on to later kind of walk those comments back a little. But is there a double standard here? Republicans they say, there's no place in our party or country for comments that disparage those who have served honorably. Well, unless you're a Democrat.

CONGRESSMAN WILL HURD (R-TX): You don't criticize anybody's service. Somebody that is willing to go overseas, put their lives in harm's way in order for all of us to sleep well at night, you don't disparage that. I don't care what party you're in.

TAPPER: Donna?

DONNA BRAZILE, CNN POLITICAL COMMENTATOR: I totally agree with the congressman. Yet, I remember 2004.

But look, I think the Republicans are struggling with excommunicating Donald Trump and some Republicans are trying to embrace him. Just in case he drops out, they want to, you know, be able to accrue those votes.

They have a real branding problem with Hispanics and they have been working on it for years the Republicans. And now — here comes this big celebrity. He's a celebrity now.

TAPPER: Sure.

BRAZILE: But he's a celebrity with a huge following because he's standing up to the establishment, but he's also blocking I think some of the sunshine that some of the other Republicans like Mr. Kasich, Mr. Rubio and others, they would like to have this moment in the sun so they can qualify for the first debate.
You can watch the discussion, below:
(Visited 54 times, 1 visits today)