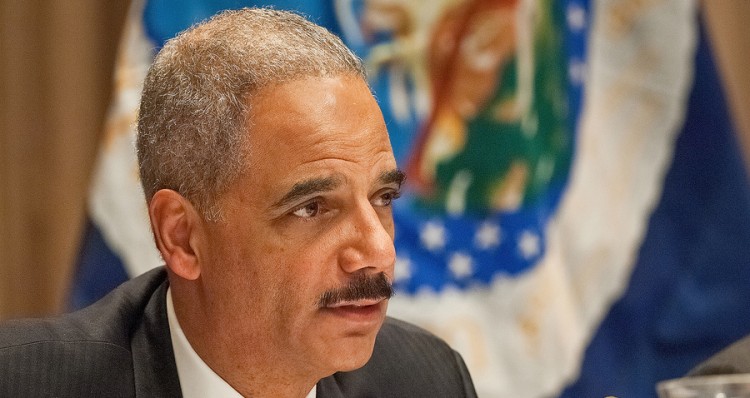 According to former Attorney General Eric Holder, "the possibility exists," that NSA whistleblower Edward Snowden might return home. In an interview with Yahoo! News, Holder said of Snowden, "I certainly think there could be a basis for a resolution that everybody could ultimately be satisfied with. I think the possibility exists…We are in a different place as a result of the Snowden disclosures…his actions spurred a necessary debate."
Holder had previously said that the U.S. would be willing to "engage in conversation" with Snowden, but at the time ruled out a granting of clemency. In June of 2013, Holder filed a criminal complaint against Snowden, charging him with three felony violations of the Espionage Act. However, these new remarks are the first to suggest a positive impact from Snowden's leak among current or former Obama administration officials.
"The former attorney general's recognition that Snowden's actions led to meaningful changes is welcome," said Snowden's lawyer Ben Wizner. "This is significant … I don't think we've seen this kind of respect from anybody at a Cabinet level before." Though current officials are not as outwardly optimistic.
"This is an ongoing case so I am not going to get into specific details but I can say our position regarding bringing Edward Snowden back to the United States to face charges has not changed," said Melanie Newman, chief spokeswoman for Attorney General Loretta Lynch, in an email.
Sources close to discussions regarding Snowden's case told Yahoo! News that a plea bargain has been floated informally. Robert Litt, chief counsel to Director of National Intelligence James Clapper, has privately proposed a return of Snowden to the United States with a guilty plea of one felony count and a prison sentence of three to five years in exchange for full cooperation. A source close to Litt has since said that the comments were personal, and not the official position of the U.S. government. The source confirmed that they did tell Snowden's representatives that "nothing is going to happen unless he comes in and moves off this idea, 'I'm entitled to a medal.'"
Snowden's lawyer Wizner has rejected Litt's proposal as unacceptable to his client. "Our position is he should not be reporting to prison as a felon and losing his civil rights as a result of his act of conscience," said Wizner. Any attempt to see Snowden returned home is due to face an uphill battle, with many government officials unwilling to deal. Former NSA and CIA Director Michael Hayden said, "I'm quite stunned that we would be considering any return of Snowden to this country other than to meet a jury of his peers, period," said Hayden, describing Snowden's actions as "the greatest hemorrhaging of legitimate American secrets in the history of the republic, no question about it."
While Washington's viewpoint regarding Snowden remains publicly rigid, this new information does point to select high-level government officials entertaining the idea of finding a way to put the issue to rest. Snowden's return may be slowly transforming from one-time impossibility to eventual inevitability.
(Visited 15 times, 1 visits today)