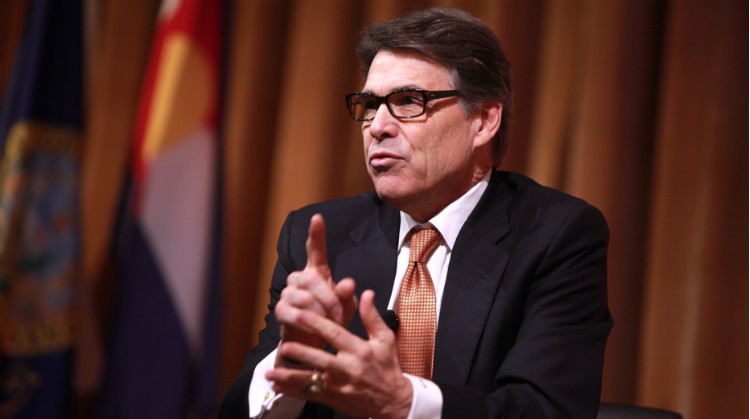 Things are not looking so good for presidential hopeful, former Texas Governor Rick Perry.
U.S. News and World Report is reporting that the 3rd Court of Appeals today threw out one of the charges against him but ruled he still has to answer for the abuse-of-power accusations against him.
A grand jury indicted Perry in 2014 for using his executive power to try to force Travis County's Rosemary Lehmberg to resign. Perry threatened to veto $7.5 million (2 years) in state funding to Lehmberg's Public Integrity unit after she'd pled guilty to drunk driving and served 45 days for the offense. A state funded watchdog, the Public Integrity Unit investigates charges of public corruption. When Perry called to demand she resign, she refused; he then vetoed funding for the agency. The grand jury issued two indictments: abuse of official capacity and coercion of a public servant. A guilty sentence on both counts could have put Perry in the slammer for 109 years.
The 3rd Court rejected the coercion of a public servant count on the grounds that it violated the First Amendment but upheld the first count, saying Perry's actions were unconstitutional. That charge is a first-degree felony and carries a maximum sentence of 99 years.
His attorney, Tony Buzbee, made this statement at a news conference in Houston: "One down, one to go. The court today threw out what we consider to be the greater of the two charges." According to Buzbee, the abuse of power charge is "hanging by a thread."
Seeing that the coercion of a public servant charge carried only a 10-year maximum sentence and the abuse of power carries a considerably longer sentence, one has to wonder what Buzbee is talking about and if he even knows what he's doing.
Director Craig McDonald of the left leaning Texans for Public Justice  was quick to point out that the judges who handed down today's ruling are Republican. He stated they could have thrown out the entire case but instead, their decision "leaves a criminal indictment hanging over Perry's head."
The Perry campaign had no comment other than Buzbee's statement.
Follow Ann Werner on Facebook and Twitter
(Visited 35 times, 1 visits today)