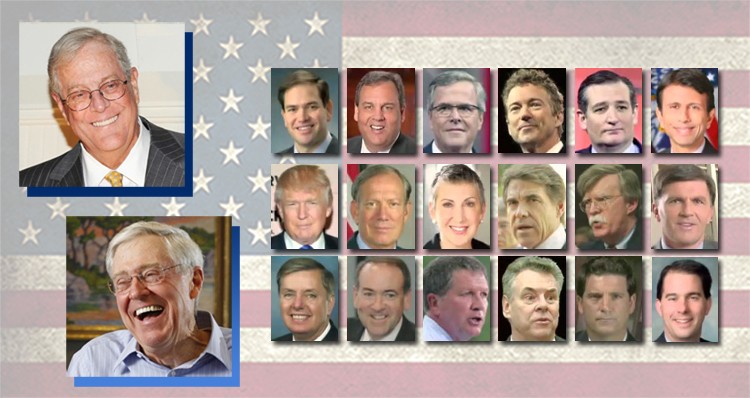 The Sunlight Foundation, a campaign watchdog group, has labeled the 2016 election as the BYOB, or 'Bring Your Own Billionaire' election. "This is a BYOB election – bring your own billionaire [election]," says president of the Sunlight Foundation Chris Gates. "And if you don't have at least a few of them in your pocket you're probably not going to be taken very seriously as a political candidate."
The example given is of Joe Ricketts and his family, active donors over the past few election cycles with Ricketts as founder of the company now known as TD Ameritrade. Ricketts and his wife have given 5 million dollars to Scott Walker's super PAC. Analysts say that Ricketts is motivated by federal budget issues and taxes. Lee Dutman from New America said of Ricketts, "Generally he's been concerned about fiscal issues, taxation, spending. He seems to want government to be much smaller and spend a lot less."
Jeb Bush has made a heavy push for the blessing of the Koch brothers, with key statements made to court the duo at a political event held by the corporate giants last weekend. His angle? Private property rights. Many see the Kochs as having primary influence over selecting the GOP candidate based on campaign contributions alone – making the Kochs, and not the GOP, in ultimate control of choosing their next candidate.
"The one that is unique to America? Private property rights," said Bush. "Private property rights. … And you know what the second was? Private business. Not a public company—a private business. Because a private business, by the way, through trial and error, they can do what they want. They don't have to worry about the quarterly returns, and get on the call to listen to shareholders or analysts say why it's stupid to be spending money on something that may be out of the ordinary."
The Illinois Sunshine group has posted data pointing to concern over political spending, stating that $2.7 billion dollars in political donations have been made in the past 20 years in Illinois alone. The motto of the results – "Find out who's buying our democracy." The Presidential election has become increasingly about the size of a candidate's spending pool rather than the depths of their own ideals or convictions. One needs only look to Trump to see how the impossible becomes possible. With the first GOP debate due this evening, it is time for America to wake up and smell the corporate corruption.
(Visited 3 times, 1 visits today)