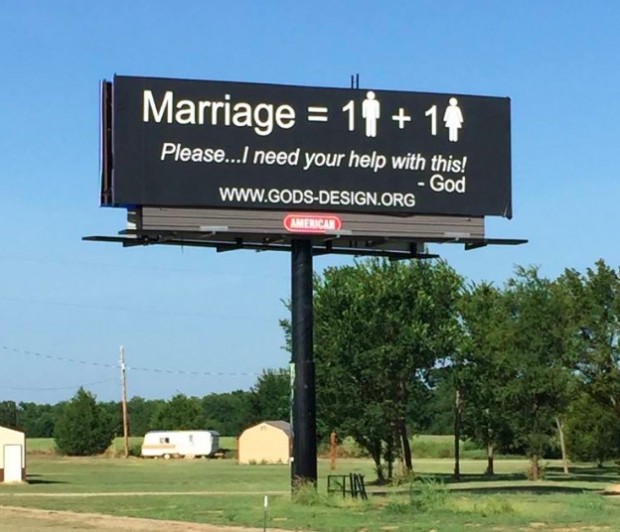 Some people just can't let sleeping dogs lie. Or in the case marrying same-sex couples. One couple – the very straight and very Christian Oklahoma couple Betty and Dick Odgaard – are so offended and bothered by the prospect of same-sex marriages that they not only shut down their one-stop wedding venue, but they are planning to put up 1,000 antigay billboards.
The first billboard went up in Oklahoma on July 24 — It's 14 feet high and 48 feet wide and reads, "Marriage =" and then an image of a man, a plus sign and a picture of a woman. Of course, it's signed by God and says, "Please…I need your help with this."
After being told they could no longer discriminate against same-sex couples, the owners of Iowa's Gortz Haus Gallery, featuring a restaurant, flower shop, and wedding venue, went into action, closing their business and filing a law suit.
Here's what they posted on their website:
The laws in the State of Iowa now prevent us from operating and sustaining our business according to our faith without the threat of persecution and fines. As a result, we are forced to close the doors of the beautiful Görtz Haus Gallery by the end of July, 2015.     (Odgaards v. Iowa)

We extend our deepest appreciation to our loyal patrons and supporters here in Grimes, across Iowa, across the nation and literally around the world. Thank You!

Inspired by their experiences, the Odgaards have organized God'sOriginal Design Ministry, a 501(c)(3) non-profit corporation to advance Christian teachings, Biblical ordinances and natural laws as God intended.

Thank you very much for your continued support!
The Odgaard's decided to close their doors after a gay couple sued in 2013 for refusing to marry them resulting a $5,000 settlement. Shortly after that, their business tanked. They later launched "God's Original Design Ministry" to push their anti-gay mission.
Of course the ministry is registered as a 501(c)3 organization, so it's exempt from taxes. The ministry plans to place 1,000 similar signs across the nation in their mission to defend "traditional" marriage.
Lucky for us they have a Facebook page where we can leave comments about the national roadside art work they're planning.
Their latest post, announcing the billboard went up last Tuesday saying, "Billboard #1 went up July 24, 2015!! It's a 14'x48′ lighted beauty located on US 69/75 greeting north bound traffic 5 miles south of Durant, OK. This billboard is funded 100% by the [sic] your generous donations. One down and 999 to go for 1,000 points of light. Thank you and God bless!"
//
"It has become very obvious that many people of faith have wandered from the word, and/or are deeply confused with this issue," Betty Odgaard told TheBlaze. "With that, the primary objective our mission with these billboards is to spark 'drive-time epiphanies.' In other words, to remind the faithful of the truth."
Billboards seem to be all the rage these days. God from Facebook, recently put this one up in Topeka, Kansas.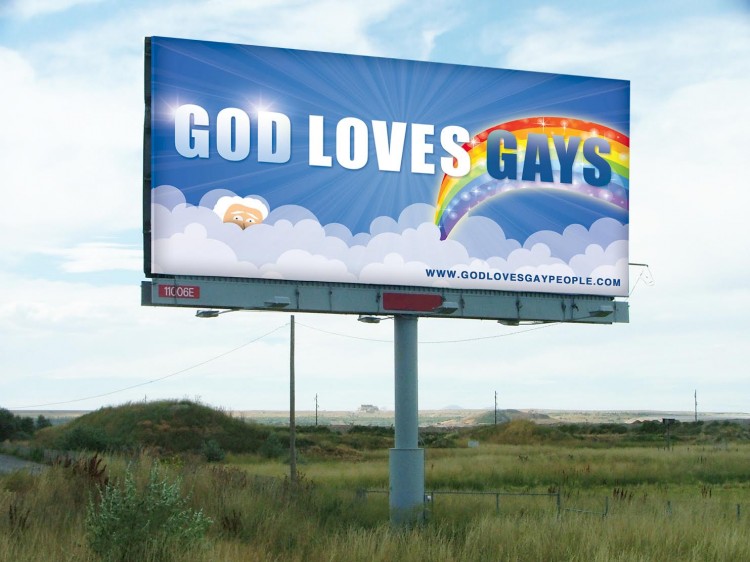 He (The Almighty) is trying to get funding for the next one in Salt Lake City, Utah through an indegogo campaign that has already raised $101,223.
Maybe he'll pick Oklahoma next.
(Visited 45 times, 1 visits today)