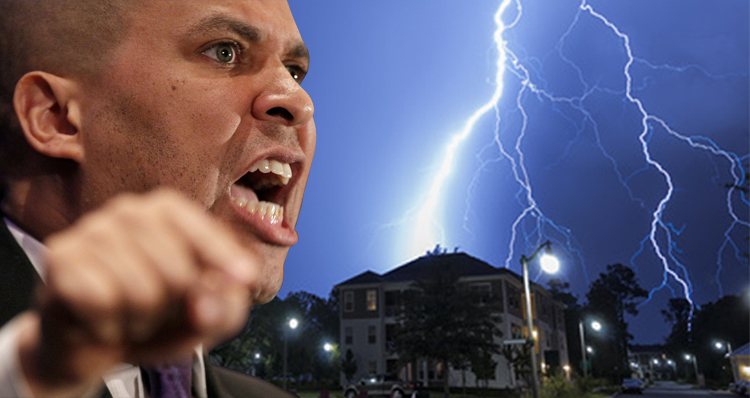 On August 6, 2015, the Voting Rights Act turned 50. The day before the VRA anniversary, Texas voters had reason to celebrate – the 5th Circuit Court of Appeals ruled that Texas's 2011 photo ID law was unconstitutional, because it violated the rights of minority voters.
Popular Democratic Senator Cory Booker (NJ) appeared on ABC's This Week on August 9 and explained why he supported the decision with a powerful quote: "Take Texas for example, where Lyndon Johnson's obviously from, they passed these voter ID laws. In the decade before it, 10 years, they only prosecute two people for in-person voter ID, only two people. You're more likely to get struck by lightning in Texas than to find any kind of voter fraud."
PolitiFact decided to fact-check Booker's quote to see if lightning really is more likely to strike in Texas than in-person voter fraud.
After some investigation, they found:
Since 2002, there have been a total of 85 election fraud prosecutions, not all of which have resulted in conviction. Only a small number of those cases — four or possibly fewer — included allegations of in-person voter fraud, also called voter impersonation. Those are the kinds of cases the voter ID law in Texas is aimed at preventing, and Booker is right that they have been less frequent than lightning strikes. Overall, we [Politifact] rate his statement True.

Texas had the second-highest number of lightning-related fatalities from 1959 to 2013, behind only Florida. But that's mostly because Texas is so big, both in terms of area and population; once you adjust the death rate, Texas actually ranks 33rd.

An expert from the National Weather Service confirmed to us that the probability of being struck by lightning in Texas is slightly lower than the national average, right around 1 in 1.35 million.

Four cases of fraud  for 72 million votes makes the chance of voter fraud 1 in 18 million.
Make sure you're registered to vote now. Don't allow the bigots and the racists to win. Visit this LINK to learn more.
Like Kimberley A. Johnson on Facebook HERE or follow her HERE.
(Visited 35 times, 1 visits today)